The genus Psilocybe is known for a number of hallucinogenic representatives. However, most species are examined for their possible hallucinogenic tryptamine content but there are still a number of problems , e.g. distinguishing some rare species from one another.
Psilocybe ovoideocystidiata has a hallucinogenic effect. The psilocybin content is lower and reaches a maximum of 0.36% of the dry matter. Due to the risk of confusion with deadly poison mushrooms, avoid to forage them. There have been many deaths from confusion in America.
You are warned against a tasting Psilocybe ovoideocystidiata. Differentiation of this species is often very difficult and is usually only possible with certainty under the microscope.
In progress – Infos following soon
S
P
A
W
N

P
R
I
M
O
R
D
I
A

F
R
U
I
T
I
N
G


Temp °C

Relative Humidity

%

Duration d

CO2 ppm

FAE per h

Light lux
Agar Culture Media:
Cropping Cycle:
Containers for fruiting:
Biological efficiencies:
Substrates:
Decomposer, likes heat, summer to late fall, bears fruit mainly in spring; At other times of the year, even with favorable weather conditions, very little fruiting occurs.
On wood or wood residues, along paths or in bushy places, in deciduous forest. It is usually found near rivers in floodplains where wood has accumulated and dense vegetation has grown on debris. Meadows, lawns, deciduous forests, in moist forests or gardens, on dead wood litter, humus.
Origin: America; not normally found in Europe in a natural environment. However, there have already been reports of finds in Switzerland and southern Germany.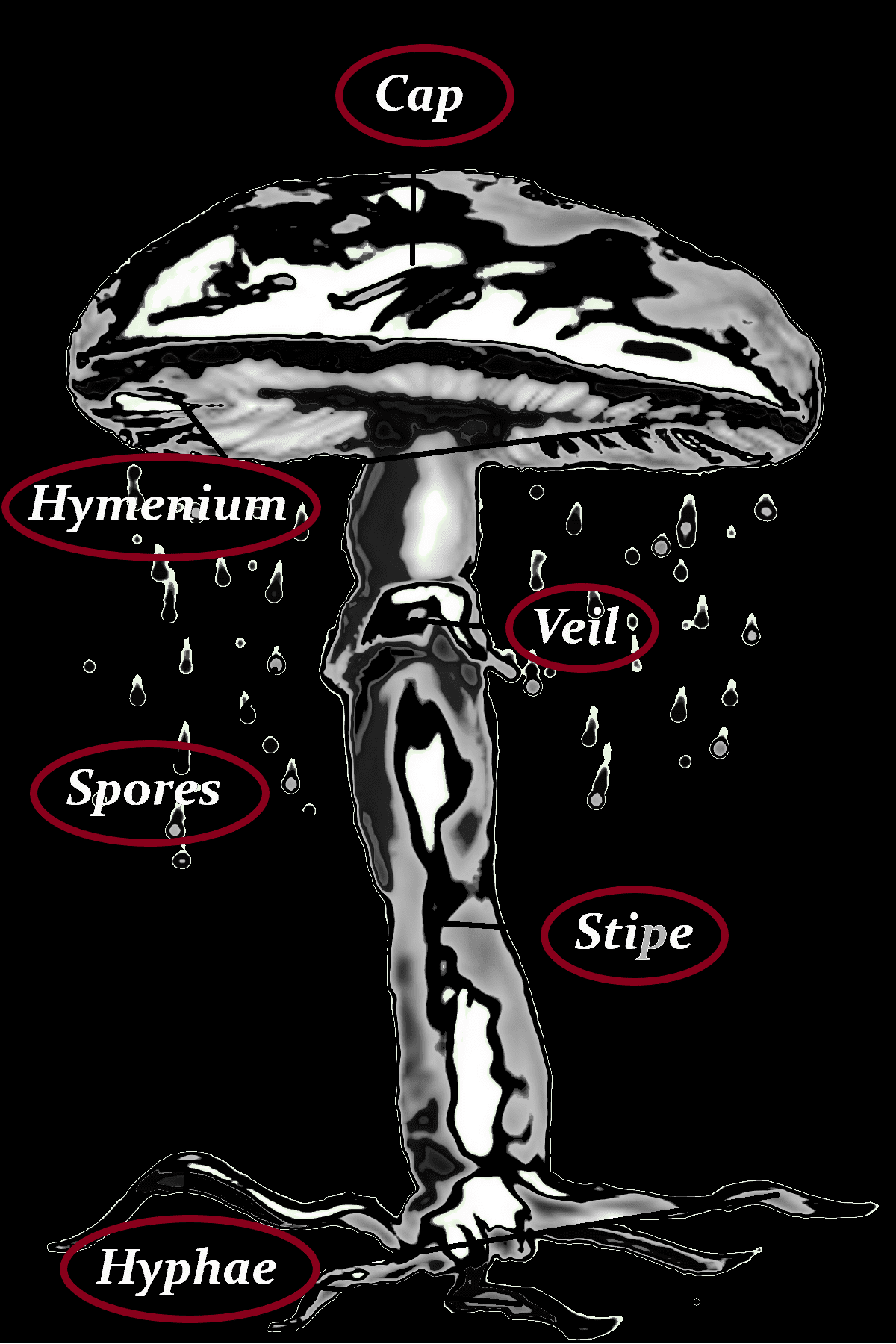 -1-6 (8) cm
-light brown, hazel, orange-brown
-ochre yellowish when dry
-hygrophanous
-greasy when moist, hemispherical
-with a small hump
-later flattened, grooved
-margin translucent grooved
-turning blue-green when pressed
Due to the whitish fibrousness very similar to the poisonous species!
-2-10 (13) cm long
-0.5-1.5 (2) cm Ø
-light brownish, gray-brown, orange-brown
-whitish rattled
-fibrous
-hollow
-cinnamon brown, dark brown, chocolate brown
-also purplish brown
-somewhat mottled by spore powder
-attached
-with intermediate lamellae
7-12 x 6-8.6 µm, roundish, subellipsoid, ovoid, basidia 20-28 x 7-9 µm, four-spored, cheilocystidia, pleurocystidia 16-24 x 6-8 µm or 20-40 x 12-16 µm
-dark purplish brown
PSILOCYBE PUGETENSIS, GALERINA MARGINATA, PSILOCYBE CYANOFIBRILLOSA, PSILOCYBE AZURESCENS, PSILOCYBE SERBICA VAR. BOHEMICA, PANAEOLUS CYANESCENS, PSILOCYBE SEMILANCEATA, PROTOSTROPHARIA SEMIGLOBATA, PANAEOLUS PAPILIONACEUS, PANAEOLUS GUTTULATUS, PANAEOLUS FIMICOLA, AGROCYBE PRAECOX, PSILOCYBE CORONILLA,
-whitish with a blackish edge above
There is anwarning against food experiments with Psilocybe ovoideocystidiata. Collecting, possessing and selling drug mushrooms is illegal in many countries around the world.
Depending on the particular strain, growth method, and age at harvest, psilocybe mushrooms can come in rather different potencies. It is recommended to weigh the actual mushrooms, better then counting them. 10% of the mushrooms mass is left, when dried. Take a look at Properties, to find out how potent they are.
Due to the presumed main ingredient, psilocybin, the same effect can be expected as with other types of well-known hallucinogenic mushrooms. At this point, it is convenient to refer to the description of the effects of Psilocybe cumbensis.
Duration:
5-6 hours