Cyclocybe aegerita, also called Agrocybe cylindracea, Agrocybe aegerita or Pholiota aegerita, is a mushroom in the genus Cyclocybe which is commonly known as the poplar mushroom, chestnut mushroom, or velvet pioppini (Chinese: cha shu gu, 茶树菇, literally "Tea Tree Mushroom"). In Japan, it is called Yanagi-matsutake (Japanese:柳松茸).
Agrocybe aegerita is cultivated commercially and it is typical ingredient found in both Southern European and Chinese cuisine. In Europe, it has been cultivated since the Roman era. Cultivation techniques are described by Pliny the Elder in his Naturalis Historia. The mushroom tastes so delicious that it has been cultivated for 2000 years. Even in ancient Rome it was known that Pioppini could be cultivated by rubbing ripe fruiting bodies on prepared poplar stalks.
None known, although closely related species produce unique antibiotics.
In Traditional Chinese Medicine, Agrocybe aegerita is often used as a diuretic. The fungi C. aegerita, M. alliaceus and C. purpureum are suitable organisms for counteracting OMW plant toxicity.
Picking specimens from the wild is not recommended due to the difficulty of identification.
Agrocybe aegerita can be easily grown by complete beginners as long as you work hygienically and cleanly. Grows with slight losses in quality and yield even on simple substrates with 50% straw content. Best growing results with sterile substrate based on hardwood. Also well suited is my standard substrate recipe for wood decomposers. Tolerates drier climates (80-85%) and slightly higher temperatures than most cultivated mushrooms when grown indoors. Precise cultivation parameters can be found at the bottom.
A good fruiting strategy is to allow the mushroom only a few fruiting windows to stimulate clump formation. Taping the pouch often proves to be a good method to avoid air cavities into which the fungus would otherwise grow.
Pioppino is considered a notorious fast fruiter, forming fruiting bodies already on the Petri dish or only partially colonized substrates. The ripening phase, carried out by professionals, is the guarantee of maximum yield, but it must be carried out appropriately cool and in complete darkness. Pioppini are sensitive to fruiting stimuli such as light and fresh air, and do not tolerate well being moved too much during the incubation and ripening phases.
Give the culture air and light as soon as the first brown spots appear on the surface.
Unfortunately, the species is prone to mutation if the culture is improperly managed or the incubation period is too long. And also a favorite victim of fungus flies and slugs. It does not come close to oyster mushrooms in terms of yields, but is a fine delicacy if you harvest the mushroom before it screens.
S




P




A




W




N

P
R
I
M
O
R
D
I
A

F
R
U
I
T
I
N
G

Temp °C

21-27

10-16

13-18

Relative Humidity

%

90-95

95-100

90-95

Duration d

20-28

7-14

4-6

CO2 ppm

>20000

<2000

<2000

FAE per h

0-1

4-8

4-8

Light lux

–

500-1000

500-1000
Agar Culture Media: MYPA, PDYA, OMYA, and DFA
Cropping: two flushes, 10-14 days apart
Containers for fruiting: Polypropylene bags and trays. This fungus grows better on horizontal surfaces than on vertical ones.
Biological efficience: Up to 1 pound of fresh mushrooms per 5-6 pound block of sterilized sawdust/chips/bran. Large-diameter willow, aspen, and cottonwood stumps could sustain massive fruiting for many years.
Substrates: Supplemented oak and alder sawdust/shavings. Willow, cottonwood, cottonwood, maple
Agrocybe aegerita occurs in Europe only in the Mediterranean region. It attacks deadwood of various deciduous trees, preferably poplars. However, it is also thought to be a parasitic, as it is repeatedly found on living trees.
On stumps in southeastern United States and southern Europe. Prefers hardwoods, especially poplar, willow, poplar, maple, elder and in China tea and olive trees. Loves heat, prefers wine-growing areas, bushy, spring to late autumn.
-on deciduous wood, mainly poplar stumps or trunks,
growing saprophytically, often in clusters
-later decomposers,
-also parasites, affects tree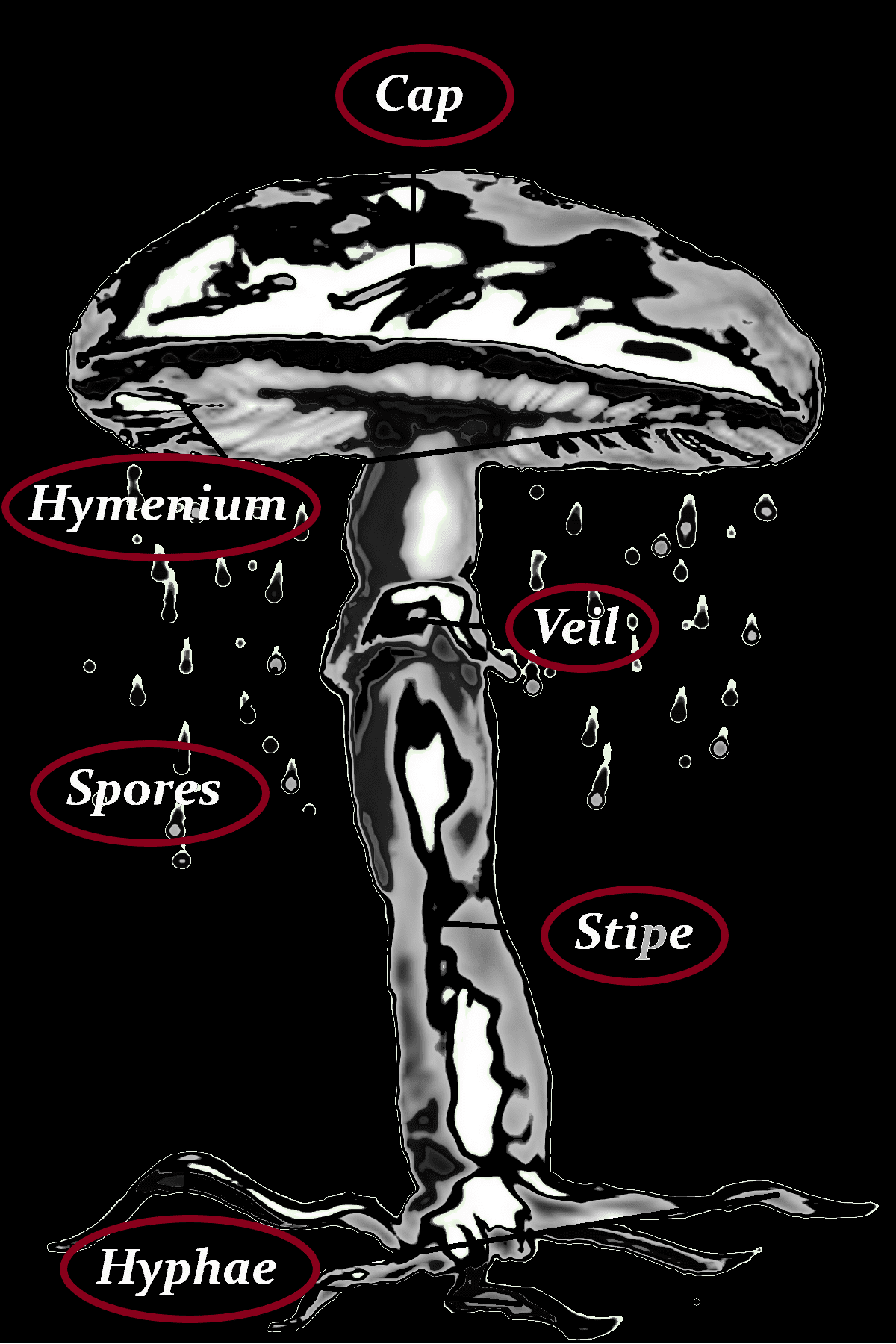 -often up to 12 inches in diameter
-convex to hemispherical
-widening to flat at maturity
-smooth
-yellowish gray to grey-brown to tan to dark brown
-darker towards the centre
-gray at first, chocolate brown when spores ripen
-dense
-wavy
-often spotted
-white
-adorned with a well-developed ring of membranes
-usually tinged brown with falling spores
-longitudinally linear
-becoming woolly
-generally not airy
-first white, soon mottled brown and finally tawny
-primordia are normally formed on malt extract agar media
-smooth
-ovate to slightly elliptical
-brown
-9–11 × 5–6.5 (7) µ
-without distinct germ pore
-clamp connections available
Agrocybe praecox, Pleurotus dryinus, Pleurotus pulmonarius
The flavor of Agrocybe aegerita is distinctly sweet and aromatic, with a hint of sweet chestnut. Pleasantly soft, slightly floral aroma. The texture is nicely fleshy and firm. The uniquely crunchy texture of unscreened fruit bodies allows for a variety of preparation methods. To me, the mushroom tastes best when fried very hot and only briefly. It also goes well with fish and light roasts, but also with stews and curries.
In East Asia, it is used fresh and rehydrated in various dishes, including stir-fry, soup, stew, and hot pot. It has a soft cap and a harder stem.
white, darker than foot, brownish
Nutritional content per 100g
Water
89.6g
Energy (Atwater General Factors)
39kcal
Energy (Atwater Specific Factors)
31kcal
Nitrogen
0.56g
Protein
3.5g
Total lipid (fat)
0.24g
Ash
0.94g
Carbohydrates:
Carbohydrate, by difference
5.76g
Minerals:
Calcium, Ca
<2.49mg
Iron, Fe
0.49mg
Magnesium, Mg
16mg
Phosphorus, P
121mg
Potassium, K
392mg
Sodium, Na
<2.49mg
Zinc, Zn
0.86mg
Copper, Cu
276mg
Manganese, Mn
98mg
Selenium, Se
4.1µg
Vitamins and Other Components:
Thiamin
12mg
Riboflavin
426mg
Niacin
6.22mg
Vitamin B-6
102mg
Biotin
15µg
Vitamin D (D2 + D3), International Units
0IU
Vitamin D (D2 + D3)
0µg
Vitamin D2 (ergocalciferol)
0µg
Vitamin D4
0µg
Amino acids:
Ergothioneine
23mg
© U.S. Department Of Agriculture
| | |
| --- | --- |
| Chinesisch (traditionell) | 柱狀田頭菇 |
| Estnisch | |
| Französisch | |
| Italienisch | Pioppino |
| Katalanisch | Pollancró |
| Spanisch | Seta de Chopo |
| Spanisch | |
| Wissenschaftl. Name | |
| Wissenschaftl. Name | |
Cyclocybe Cylindracea (Syn. Agrocybe Cylindracea, Agaricus Cylindraceus, Agrocybe Aegerita, Togaria Cylindracea, The Black Poplar Mushroom, The Swordbelt Agrocybe, Pioppino, Yanagi-Matsutake, South Poplar Mushroom Or Zhuzhuang-Tiantougu, Südlicher Ackerling, Südlicher Schüppling, Samthaube, Pioppino
| | |
| --- | --- |
| Division | Basidiomycota |
| Class | Agaricomycetes |
| Order | Agaricales |
| Family | Strophariaceae |
| Genus | Cyclocybe |
| Species | C. aegerita |
| Ecology | Saprotrophic |