Pholiota adiposa is a species of fungus in the family Strophariaceae commonly known as the chestnut mushroom.
A species also found in our country, not recommended as an edible mushroom in current literature because of its bitterness. Chestnut Mushroom lives as a decomposer on dead wood of beech trees. The exact delimitation to other Pholiota species like P.aurivella is difficult, some authors assign P.adiposa to it.
Active ingredients of Pholiota adiposa have been discovered that have antiviral, antioxidant, anticancer and antibiotic effects. They are also high in vitamins and minerals.
There are isolated reports of intolerance after consumption of the mushrooms, the DGfM therefore does not list the mushroom in its positive list.
In fact, the native variety is not classifiable as an edible mushroom, if only because of its bitterness. There are no reports of intolerance to my American variety, which does not develop any bitterness.
Hardwood substrates, beech is preferred. Pholiota adiposa thrives reliably even in a drier environment, but high humidity is important, especially at the beginning.
Cultivation of the Chestnut Mushroom trials suggest that the beech scutching fungus prefers a substrate that has not been too heavily supplemented with aggregates. A pin set consisting of several swarming precursors with suitable spacing promises maximum yield with easy harvesting. Fruit Pholiota adiposa better not together with herbaceous mushrooms in the same room, spores of Pholiota species can make it sick.
Agar Culture Media: MEA
Cropping: 2 flushes, 2 weeks apart
Containers for fruiting: Non-sterile on pasteurized hardwood substrates or logs. Sterile on enriched hardwood substrates. Beech is preferred, but not mandatory.
Biological efficience: 80-120%
Substrates: Rye berries, supplemented sawdust, straw
PH: 6,5
As a weakening and decaying parasite on beech trees. Tufted or solitary, secondary decomposer, Pholiota adiposa triggers white rot.
S
P
A
W
N

P
R
I
M
O
R
D
I
A

F
R
U
I
T
I
N
G

Temp °C

21-24

11-18

10-21

Relative Humidity

%

90

80-90

90-95

Duration d

18-24

9-18

16

CO2 ppm

>10000

2000-4000

600-1000

FAE per h

0-1

3-4

4-6

Light lux

–

300-600 (12h)

500-700
Pholiota adiposa found in Europe, where it grows both saprophytically and as a weak parasite on living and dead stems of European beech trees.
All of the northern hemisphere. On deciduous wood, often on large fallen branches of beech, but also on other hardwoods such as oaks and poplars, summer to late autumn.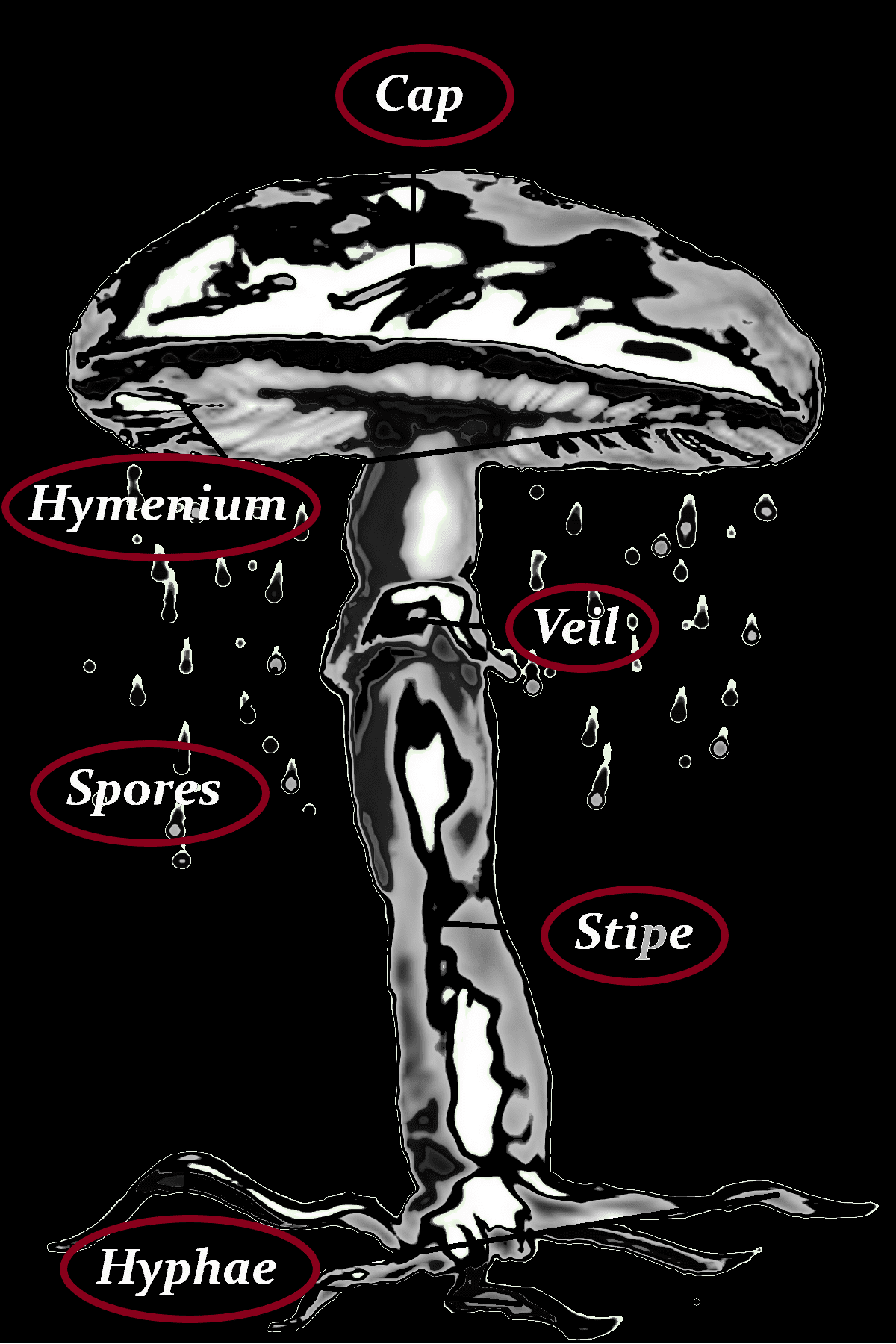 -3-10 (12) cm Ø
-golden yellow, yellow ochre with large whitish-yellowish to brownish adherent scales (partial veil fragments)
-partially erect
-greasy
-viscid-soaked
-margin covered with veil debris
-pale yellow to rusty yellow, grayish yellow
-slightly pendulous
-often with droplet
-wavy edges
Hochthronender Schüppling,Bleicher Schüppling, Goldfellschüppling, Fettiger Schüppling, Pinselschüppling, Weißgezähnelter Träuschling, Kohlenschüppling, Sparriger Schüppling, Abweichender Schüppling.
-2-6 (8) cm long
-5-9 (12) mm in diameter
-mucilaginous
-unctuous
-creamy yellow, yellow to yellowish brown with dark brown scales (partial veil fragments)
-tip lighter & free of scales
-with indicated annular zone
-base brown, rusty brown
-5-8.5 x 3-5.5 µm
-rusty brown
-ellipsoid
-smooth
-non-amyloid
-cheilocystidia very variable
-often narrow and constricted several times
Although, from a taste point of view, Pholiota adiposa are not everyone's cup of tea, many cooks and gourmets express their enthusiasm. The slightly "peppery" finish goes well with the otherwise mild flavor. Some cooks swear that the mushroom tastes better when fully ripe than when young and even use Chestnut Mushrooms as a "marinade" for roasts of game.
unpleasant, often barely pronounced, mild to very slightly bitterish
| | |
| --- | --- |
| Deutsch | Schleimiger Schüppling |
| Dänisch | Højtsiddende skælhat |
| Finnisch | kultahelokka |
| Japanisch | ヌメリスギタケ |
| Litauisch | Lipnioji skujagalvė |
| Magyar | Nyálkás tőkegomba |
| Niederländisch | Goudvliesbundelzwam |
| Norwegisch | bøkeskjellsopp |
| Schwedisch | slemmig tofsskivling |
| Slowakisch | Šupinovka slizká |
| Tschechisch | šupinovka slizká |
| Ungarisch | Nyálkás tőkegomba |
| Wissenschaftl. Name | Pholiota adiposa |
| Wissenschaftl. Name | Pholiota aurivella abietis-nordmanniana |
Pholiota Adiposa, Dryophila Adiposa, Hypodendrum Adiposum, Agaricus Adiposus, "Chestnut Mushroom", Buchenschüppling, Schleimiger Schüppling, Schleimiger Buchenschüppling, Behangener Schleimschüppling, Schmieriger Buchenschüppling
| | |
| --- | --- |
| Division | |
| Class | |
| Order | |
| Family | |
| Genus | |
| Species | |
| Ecology | |