Psilocybe tampanensis, also known as the "Philosopher's Stone" or "Magic Truffle," is a species of psychedelic mushroom that belongs to the genus Psilocybe.
The legal status of Psilocybe tampanensis and other psilocybin-containing mushrooms varies across different jurisdictions. In many countries, these mushrooms are classified as illegal substances due to their hallucinogenic properties. However, in some regions, there is a growing movement advocating for the decriminalization or regulated medical use of psilocybin.

Like other psychoactive grassland species such as Psilocybe semilanceata, Conocybe cyanopus, P. tampanensis can form sclerotia, a hardened mass of mycelium that is more resistant to adverse environmental conditions than normal mycelium. This form of truffle offers the fungus some protection from forest fires and other natural disasters. Sclerotia are also produced when the species is grown in culture. Sclerotia can be grown on ryegrass (Lolium) substrate and on straw. Sclerotia prepared in this way take 3 to 12 weeks to develop.
Nearly two decades after its discovery, Psilocybe tampanensis was only known from the type locality southeast of Brandon, Florida. Like all Psilocybe species, it is saprobic. Psilocybe tampanensis is native to subtropical regions and can be found in grassy meadows, pastures, and sometimes in woodlands.
However, it is important to note that wild populations of this species are relatively rare and localized. Due to its limited distribution, cultivation has become a more common method of obtaining Psilocybe tampanensis.

Containing the psychedelic compounds psilocin and psilocybin, Psilocybe tampanensis is consumed for recreational and entheogenic purposes. A 2000 report found the species to be one of the most popular psychoactive mushrooms seized by German authorities, after Psilocybe cubensis, Psilocybe semilanceata, and Panaeolus cyanescens. Alkaloid levels in the seized samples ranged from undetectable to 0.19% psilocybin and 0.01% to 0.03% psilocin.
Psychoactive compounds are also present in the sclerotia: in one analysis, psilocybin levels in the sclerotia ranged from 0.31% to 0.68% dry weight and were dependent on the composition of the culture medium. The sclerotia are sold under the nickname "Philosophy Stones" and have a slightly bitter, nutty flavor.
When ingested, Psilocybe tampanensis induces a psychedelic experience that typically lasts between 4 to 6 hours. The effects can vary depending on the dosage, set, and setting, but common experiences include altered perception of reality, vivid visual hallucinations, changes in mood and emotions, enhanced creativity, introspection, and spiritual insights.
It is essential to approach these substances with caution, respect, and in a responsible manner, always considering one's mental state and environment. It can dissolve the boundaries between self and universe, offering glimpses into the interconnected web of existence.
But tread carefully, for Psilocybe tampanensis demands respect and mindfulness. Its effects can be profound, and the path it lays before you is not one to be taken lightly.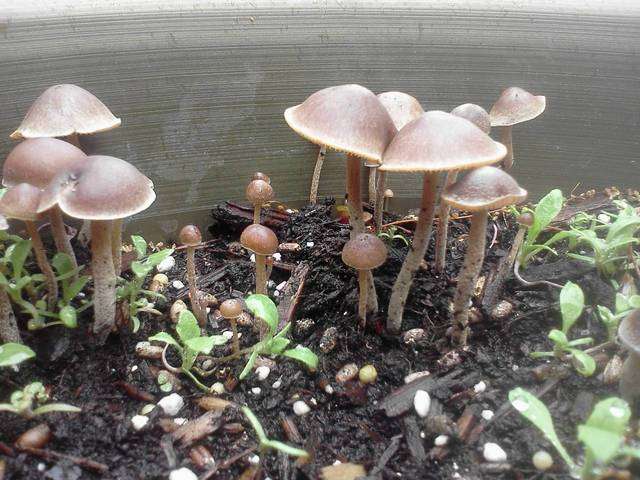 In progress – Infos following soon
S
P
A
W
N

P
R
I
M
O
R
D
I
A

F
R
U
I
T
I
N
G


Temp °C

75-80°F (24-27°C)
70-75°F (21-24°C)
65-70°F (18-21°C)

Relative Humidity

%

90-95
90-95
90-95

Duration d

10-14
7-14
10-14

CO2 ppm

>5000
1000-2000
<1000

FAE per h

0-1
4-6
4-8

Light lux

–
100-800
500-1000
You can use any typical decomposing growing methods (For example from our P.cubensis). But why should you do that, if you can set and forget for philosophers stones? Here we focus on how to grow the sclerotia. Mushrooms which are forming sclerotia: Psilocybe Mexicana, Psilocybe Tampanensis, Psilocybe Atl#7, Psilocybe Atlantis, Psilocybe Galindoi.
Growing Psilocybe tampanesis requires several steps to ensure successful cultivation. Here's a comprehensive guide on how to grow these magic mushrooms.
Step 1: Spore Syringe or Liquid Mycelium for Grain Inoculation You have several options for inoculating your substrate. If you have a spore print of Psilocybe tampanesis or any other sclerotia-producing species, you can make a spore syringe. This involves preparing the syringe and rehydrating the spores for 1-2 days before inoculating the grain. Alternatively, you can create a liquid culture from a spore syringe or liquid mycelium, which allows for faster colonization and the ability to create more inoculation material.
Step 2: Choosing the Substrate The substrate is a crucial part of growing Psilocybe tampanesis. It's recommended to use whole grain oats or ryegrass seeds as the substrate. Other options include rye berries, barley, brown rice flour, whole white/red millet, and wild bird seeds. It's important to rinse the grains thoroughly and soak them in water for 24-48 hours at room temperature. Adding gypsum during soaking can help prevent clumping. After soaking, rinse the grains again and boil them for the appropriate amount of time.
Step 3: Jars or Bags for Cultivation For growing Psilocybe tampanesis, it's best to use jars instead of bags. Jars provide better protection for the sensitive mycelium and help prevent contamination. Optimal jar sizes are between 16 ounces and 1 quart. You can fill the jars with the prepared substrate, leaving about 30-80% of the volume empty. Adding a layer of vermiculite at the bottom of each jar can help absorb excess moisture.
Step 4: Substrate Sterilization To ensure a sterile environment, cover each jar with aluminum foil and place them in a pressure cooker or autoclave. Sterilize the jars at the appropriate pressure and time, depending on their size. After sterilization, allow the jars to cool down to room temperature before proceeding.
Step 5: Inoculation Once the jars have cooled down, it's time to inoculate them with either a spore syringe or liquid culture. Prepare a clean workspace and wear appropriate protective gear. Remove the foil from the jars, wipe the inoculation port with alcohol, and inject the spore or liquid culture into each jar. It's crucial to maintain a sterile environment throughout this process to prevent contamination.
Step 6: Colonization Period After inoculation, place the jars in a dark location and allow the mycelium to colonize the substrate. The ideal temperature for colonization is around 70-75°F (21-24°C). If you want to speed up the process or if the room temperature is lower, you can use an incubator or an incubation chamber with temperature control. The colonization period typically takes 1-2 weeks, but it can vary.
Initiating Sclerotia Formation: Once the jars are fully colonized, induce sclerotia formation by exposing the mycelium to lower temperatures. Move the jars to a cooler environment, ideally around 60-68°F (16-20°C).
Wait for sclerotia growth: Over the course of several weeks, small, firm, brownish-colored sclerotia will form within the colonized grain jars. These sclerotia will resemble small stones or nuggets.
Harvest the sclerotia: Once the sclerotia have reached the desired size and hardness, they are ready for harvest. Carefully remove them from the grain jars and clean them to remove any excess substrate.
Store the harvested sclerotia: After cleaning, allow the harvested sclerotia to dry thoroughly. Once dry, store them in a cool, dry place in an airtight container to maintain their potency.
By following these steps, you can successfully grow Psilocybe tampanesis. Remember to maintain cleanliness and sterile conditions throughout the process to ensure the best results.
Happy growing!
Sclerotia

S
P
A
W
N

S




C




L




E




R




O




T




I




A




Temp °C

21-24°C (70-75°F)

15-18°C (60-65°F)

Relative Humidity

%

90-95

90-95

Duration d

10-21

28-60

CO2 ppm

>5000

loose lids a bit

FAE per h

0-1

0-1

Light lux

50-150

50-150
Fruit Bodies

S
P
A
W
N

P
R
I
M
O
R
D
I
A

F
R
U
I
T
I
N
G

Temp °C

21-24°C (70-75°F)

18-21°C (64-70°F)

15-20°C (60-68°F)

Relative Humidity

%

90-95

90-95

85-90

Duration d

10-21

7-14

7-21

CO2 ppm

>5000

800-1200

<1000

FAE per h

0-1

4-6

4-8

Light lux

50-150

100-800

500-1000
Agar Culture Media: MEA, MYPA, MYA, PDYA
Cropping Cycle:
Containers for fruiting:
Biological efficiencies:
Substrates:
Psilocybe tampanensis grows summer to late fall
Deciduous forest, meadows, nutrient-rich sandy soil, sandy humus, later decomposers, heat-loving, cultivated as a drug, and offered in various shops, especially its psilocybin-containing sclerotia tubers are in high demand as magic truffles. Grows singly or in numbers in sandy meadows and pastures in Florida near the city of Tampa. This art is only known from this place.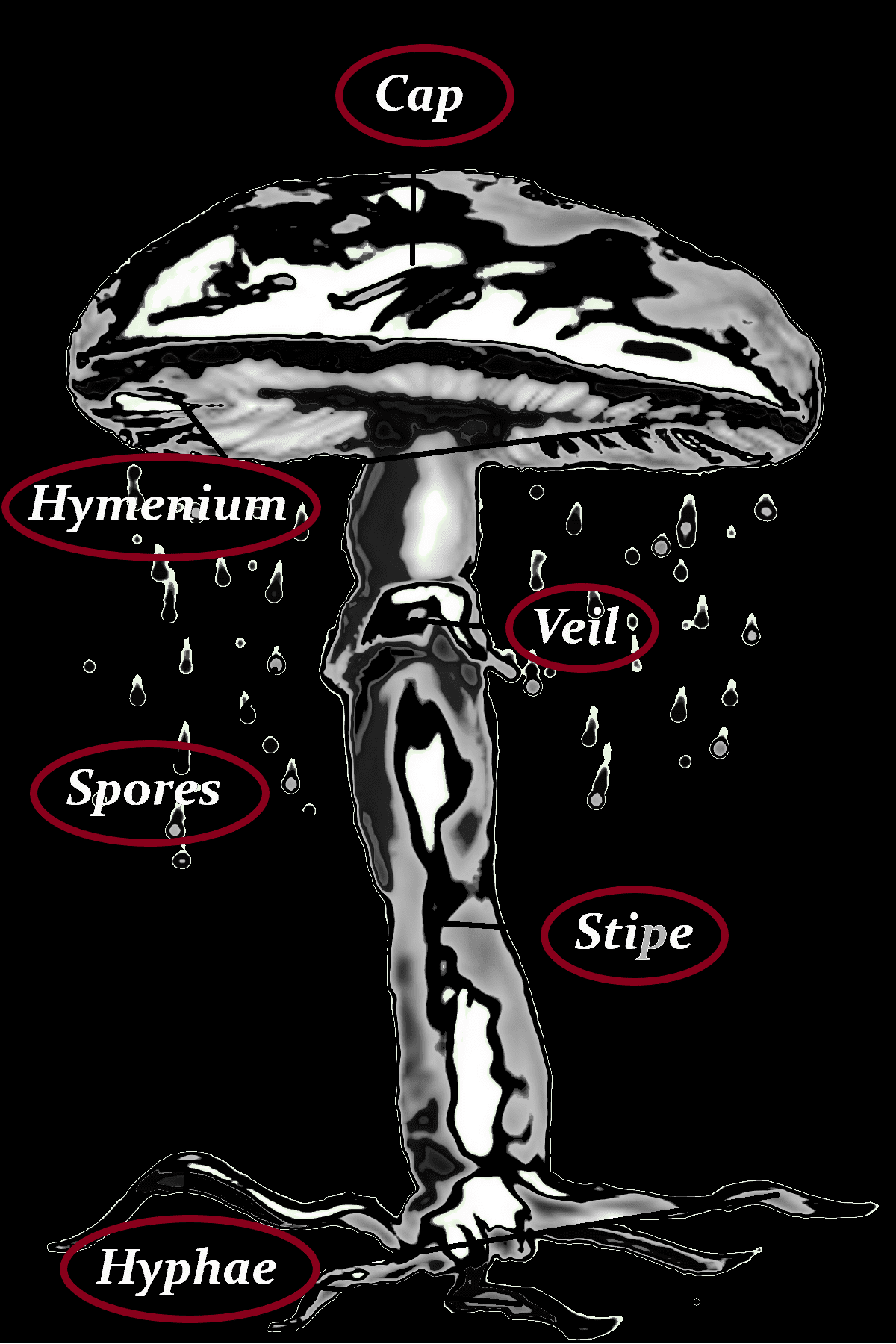 -0.3-0.9 (2) cm
-reddish brown to orange-yellow
-center more orange and humped
-light brown, ocher-yellow
-whitish frosted
-fibrous
Formation of psilocybin-containing sclerotia nodules in the fungal mycelium. In nature, sclerotia are produced by the fungus as a form of protection from forest fires.
-dark brown
-drooping
-grooved
-yellowish brown to dark yellowish brown
-bulging attached
-almost free-appearing
-with intermediate lamellae
-somewhat mottled by spore powder
6-8 x 3.3-6.5 µm, basidia 22-24 x 7.7-11 μm, cheilocystidia 15-22 x 4.4-5.5 μm
-violet brown
PSILOCYBE ATLANTIS, PSILOCYBE ALLENII, PSILOCYBE SERBICA VAR. BOHEMICA, PANAEOLUS CYANESCENS, PSILOCYBE SEMILANCEATA, PROTOSTROPHARIA SEMIGLOBATA, PANAEOLUS PAPILIONACEUS, PANAEOLUS GUTTULATUS, PANAEOLUS FIMICOLA
There is an urgent warning against food experiments with Psilocybe tampanensis. Collecting, possessing and selling drug mushrooms is illegal in many countries around the world.
Depending on the particular strain, growth method, and age at harvest, psilocybe mushrooms can come in rather different potencies. It is recommended to weigh the actual mushrooms, better then counting them. 10% of the mushrooms mass is left, when dried. Take a look at Properties, to find out how potent they are.
People taking MAOIs should be very careful, as the enzyme monoamine oxidase metabolizes psilocybin and psilocin. An MAOI decreases the body's ability to handle mushrooms (approximately doubling their potency) and can result in an uncomfortable, prolonged, or dangerously strong experience.
Due to the presumed main ingredient, psilocybin, the same effect can be expected as with other types of well-known hallucinogenic mushrooms. At this point, it is convenient to refer to the description of the effects of Psilocybe cumbensis.
Duration:
5-6 hours
-whitish to yellowish light brown

-bluish when injured
Philosopher's Stones, Magic MushRocks, TripRocks, Magic Truffles, Magischer Trüffel, Magischer Kahlkopf, Philosophen-Trüffel, Stein des Wissens, Philosophen Steine, Tampa Psilocybe, Pollock's Psilocybe