Like other psychoactive grassland species such as Psilocybe semilanceata, Conocybe cyanopus, P. tampanensis can form sclerotia, a hardened mass of mycelium that is more resistant to adverse environmental conditions than normal mycelium. This form of truffle offers the fungus some protection from forest fires and other natural disasters. Sclerotia are also produced when the species is grown in culture. Sclerotia can be grown on ryegrass (Lolium) substrate and on straw. Sclerotia prepared in this way take 3 to 12 weeks to develop.
Nearly two decades after its discovery, Psilocybe tampanensis was only known from the type locality southeast of Brandon, Florida. Like all Psilocybe species, it is saprobic.

Containing the psychedelic compounds psilocin and psilocybin, Psilocybe tampanensis is consumed for recreational and entheogenic purposes. A 2000 report found the species to be one of the most popular psychoactive mushrooms seized by German authorities, after Psilocybe cubensis, Psilocybe semilanceata, and Panaeolus cyanescens. Alkaloid levels in the seized samples ranged from undetectable to 0.19% psilocybin and 0.01% to 0.03% psilocin.
Psychoactive compounds are also present in the sclerotia: in one analysis, psilocybin levels in the sclerotia ranged from 0.31% to 0.68% dry weight and were dependent on the composition of the culture medium. The sclerotia are sold under the nickname "Philosophy Stones" and have a slightly bitter, nutty flavor.
In progress – Infos following soon
S
P
A
W
N

P
R
I
M
O
R
D
I
A

F
R
U
I
T
I
N
G


Temp °C

Relative Humidity

%

Duration d

CO2 ppm

FAE per h

Light lux
Agar Culture Media:
Cropping Cycle:
Containers for fruiting:
Biological efficiencies:
Substrates:
Psilocybe tampanensis grows summer to late fall
Deciduous forest, meadows, nutrient-rich sandy soil, sandy humus, later decomposers, heat-loving, cultivated as a drug, and offered in various shops, especially its psilocybin-containing sclerotia tubers are in high demand as magic truffles. Grows singly or in numbers in sandy meadows and pastures in Florida near the city of Tampa. This art is only known from this place.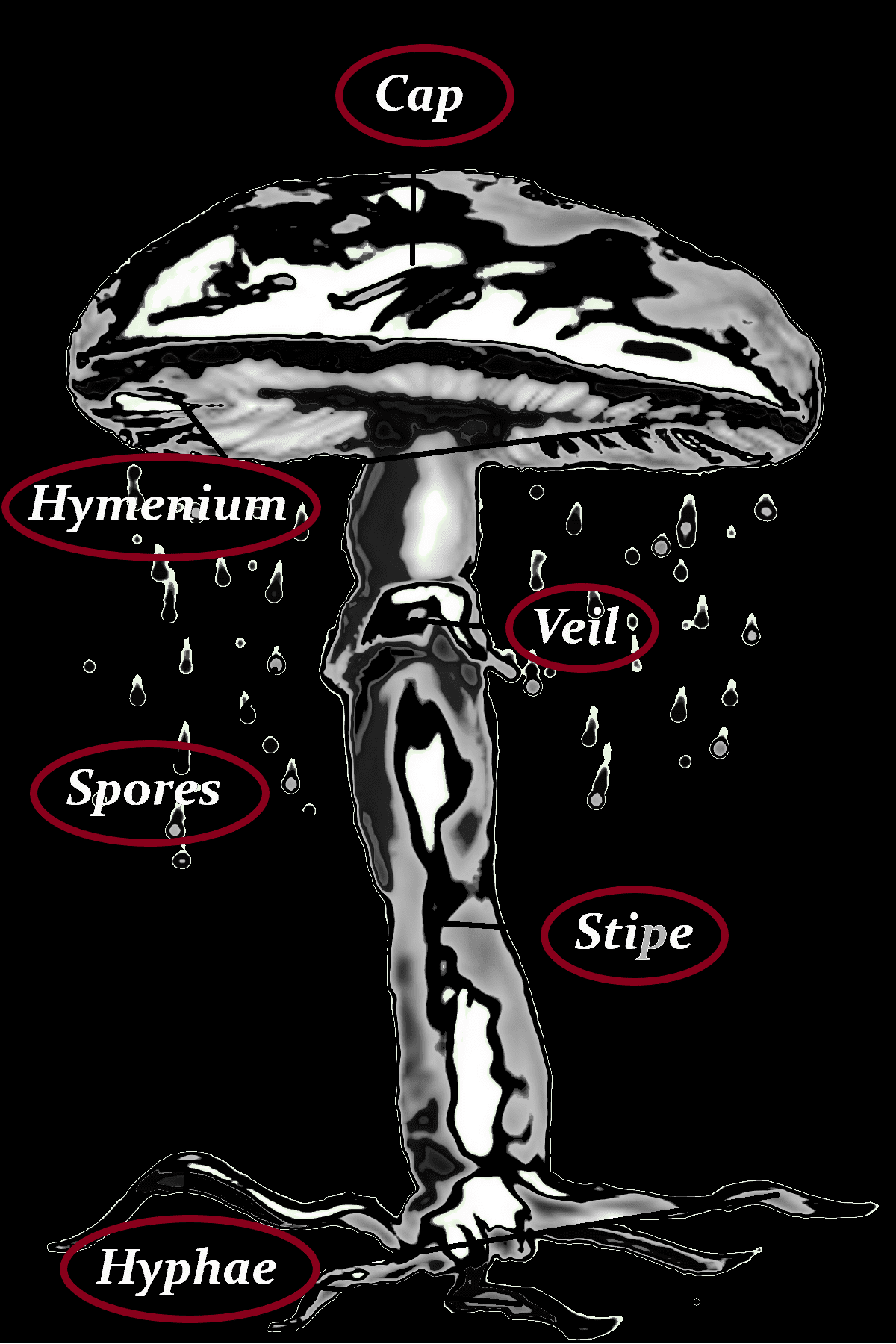 -0.3-0.9 (2) cm
-reddish brown to orange-yellow
-center more orange and humped
-light brown, ocher-yellow
-whitish frosted
-fibrous
Formation of psilocybin-containing sclerotia nodules in the fungal mycelium. In nature, sclerotia are produced by the fungus as a form of protection from forest fires.
-dark brown
-drooping
-grooved
-yellowish brown to dark yellowish brown
-bulging attached
-almost free-appearing
-with intermediate lamellae
-somewhat mottled by spore powder
6-8 x 3.3-6.5 µm, basidia 22-24 x 7.7-11 μm, cheilocystidia 15-22 x 4.4-5.5 μm
-violet brown
PSILOCYBE ATLANTIS, PSILOCYBE ALLENII, PSILOCYBE SERBICA VAR. BOHEMICA, PANAEOLUS CYANESCENS, PSILOCYBE SEMILANCEATA, PROTOSTROPHARIA SEMIGLOBATA, PANAEOLUS PAPILIONACEUS, PANAEOLUS GUTTULATUS, PANAEOLUS FIMICOLA
There is an urgent warning against food experiments with Psilocybe tampanensis. Collecting, possessing and selling drug mushrooms is illegal in many countries around the world.
Depending on the particular strain, growth method, and age at harvest, psilocybe mushrooms can come in rather different potencies. It is recommended to weigh the actual mushrooms, better then counting them. 10% of the mushrooms mass is left, when dried. Take a look at Properties, to find out how potent they are.
People taking MAOIs should be very careful, as the enzyme monoamine oxidase metabolizes psilocybin and psilocin. An MAOI decreases the body's ability to handle mushrooms (approximately doubling their potency) and can result in an uncomfortable, prolonged, or dangerously strong experience.
Due to the presumed main ingredient, psilocybin, the same effect can be expected as with other types of well-known hallucinogenic mushrooms. At this point, it is convenient to refer to the description of the effects of Psilocybe cumbensis.
Duration:
5-6 hours
-whitish to yellowish light brown

-bluish when injured
Philosopher's Stones, Magic MushRocks, TripRocks, Magic Truffles, Magischer Trüffel, Magischer Kahlkopf, Philosophen-Trüffel, Stein des Wissens, Philosophen Steine, Tampa Psilocybe, Pollock's Psilocybe