The chanterelle (Cantharellus cibarius), also called Eierschwämmchen, in Austria and Bavaria Eierschwammerl and Reherl, in Franconia Gelberle, in Saxony Gelchen, in Switzerland also Eierschwämmli, is an edible mushroom from the family of stubble fungi relatives (Hydnaceae).
The chanterelle is a mycorrhizal fungus that forms symbioses with various coniferous and deciduous trees. In Central Europe, the preferred tree partner is the common spruce, followed by the copper beech. In addition, the fungus can be associated with oaks, pines and firs, and rarely with lime trees. The chanterelle colonizes various forest types on moderately dry, base-poor and nutrient-poor soils. In limestone areas, only superficially acidified soils are colonized. It often grows very "gregariously" in young plantations and in more or less open places, only sparsely covered with grasses, perennials and mosses.
Chanterelles offered in Germany mostly come from East-Central European, Baltic and Eastern European countries, but also from the Atlas Mountains.
Active substances with antiviral, antioxidant, anticancer and antibiotic effects have been discovered in all chanterelle species. They are also rich in vitamins and minerals.
All chanterelle species are protected in Germany; they are listed as "specially protected" in Appendix 1 of the Federal Species Protection Ordinance. They may be collected in small quantities for personal use.
The true chanterelle is a fairly common mushroom. Threatening factors include long-term lack of precipitation, groundwater lowering, forestry intervention and soil compaction by forestry machinery and much trodden forest areas. It is on the Red List in many countries and is therefore restricted for collection.
Chanterelles contain per 100 grams about 6.9 g of carbohydrates (including 1.2 g of sugar), 3.8 g of fiber, 0.5 g of fat and 1.5 g of protein. The nutritional value is 134 kJ (32 kcal).
Agar Culture Media: MEA
Cropping:
Containers for fruiting: Outdoor Bed
Biological efficience:
Substrates: Rye Berries, grain mix
PH: 4-5,5
S
P
A
W
N

P
R
I
M
O
R
D
I
A

F
R
U
I
T
I
N
G

Temp °C

20

22,5

22,5

Relative Humidity

%

90-100

Duration d

28-35

40-90

CO2 ppm

>10000

FAE per h

0-1

Light lux

–
The fruiting bodies of Cantharellus cibarius appear in Central Europe from June to November.
The chanterelle is found in Australia, South America, North Asia, North America and Europe. In Europe, the chanterelle is widespread.
Mixed forest, spring to late fall, regionally often very common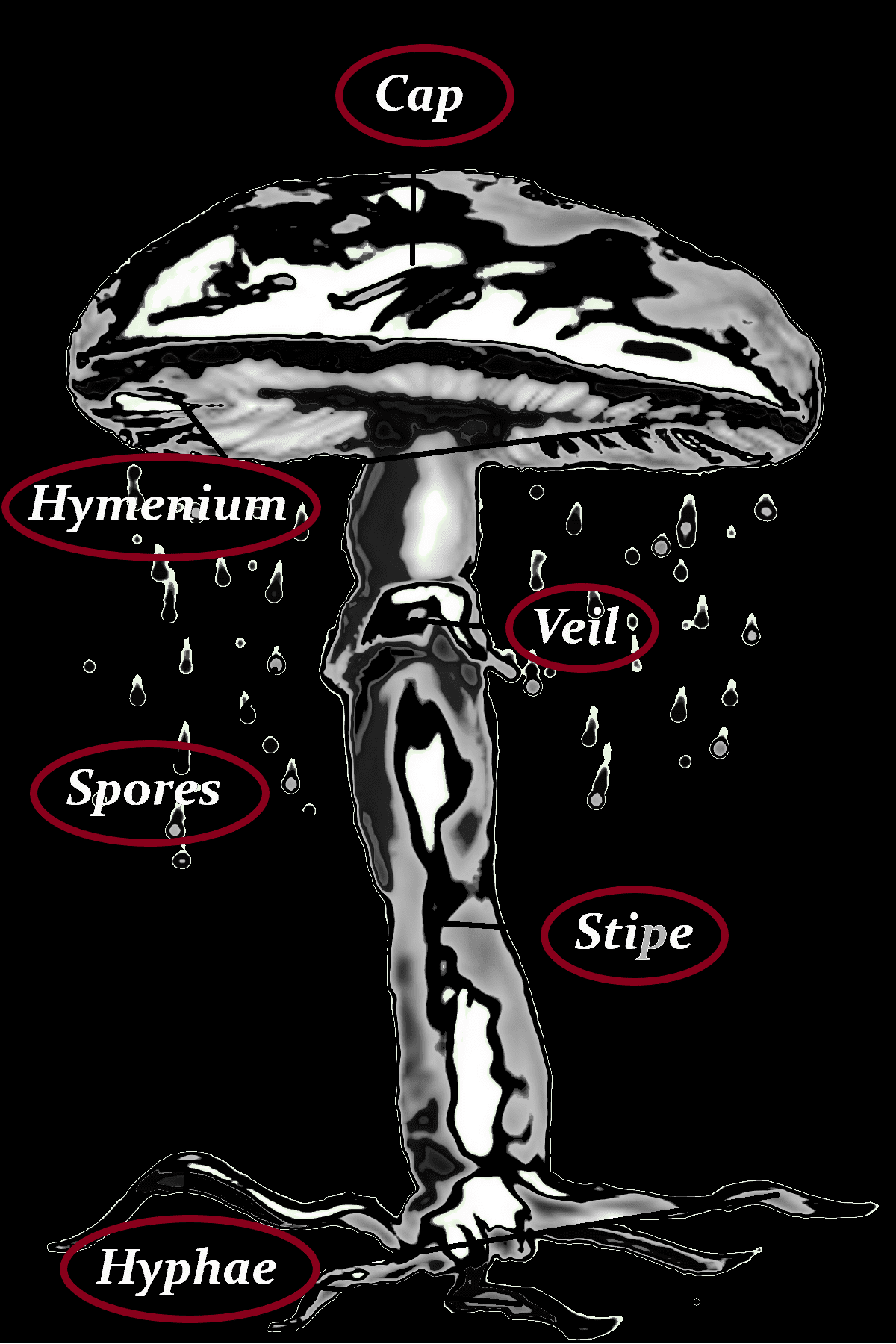 -funnel
-2-8cm
-light yellow to yolk yellow, citrusy
-ridges
-sloping
-descending along the stem
-branched
-with connected veins
-yellow to cream
-6-8 x 5-7 µm
Hygrophoropsis aurantiaca, Omphalotus olearius, Cortinarius limonius, Cantharellus amethysteus, Cantharellus friesii, Cantharellus pallens, Hygrophoropsis rufa, Cantharellus melanoxeros, Hygrocybe turunda, Cortinarius rubellus,
Cantharellus cibarius has been a popular edible mushroom since ancient times and is traded in large quantities. Its spicy smell and peppery note make this mushroom a delicacy.
aromatic, slightly spicy, peppery
aromatic, fresh, fruity, mushroomy
Nutritional content per 100g
| | |
| --- | --- |
| Water | 89.8g |
| Energy | 32kcal |
| Energy | 135kJ |
| Protein | 1.49g |
| Total lipid (fat) | 0.53g |
| Ash | 1.26g |
| Carbohydrate, by difference | 6.86g |
| Fiber, total dietary | 3.8g |
| Sugars, total including NLEA | 1.16g |
| Sucrose | 0g |
| Glucose | 1.16g |
| Fructose | 0g |
| Lactose | 0g |
| Maltose | 0g |
| Galactose | 0g |
| | |
| --- | --- |
| Calcium, Ca | 15mg |
| Iron, Fe | 3.47mg |
| Magnesium, Mg | 13mg |
| Phosphorus, P | 57mg |
| Potassium, K | 506mg |
| Sodium, Na | 9mg |
| Zinc, Zn | 0.71mg |
| Copper, Cu | 353mg |
| Manganese, Mn | 286mg |
| Selenium, Se | 2.2µg |
| | |
| --- | --- |
| Thiamin | 15mg |
| Riboflavin | 215mg |
| Niacin | 4.8mg |
| Pantothenic acid | 1.8mg |
| Vitamin B-6 | 44mg |
| Folate, total | 2µg |
| Folic acid | 0µg |
| Folate, food | 2µg |
| Folate, DFE | 2µg |
| Vitamin D (D2 + D3), International Units | 212IU |
| Vitamin D (D2 + D3) | 5.3µg |
| Vitamin D2 (ergocalciferol) | 5.3µg |
| Vitamin D3 (cholecalciferol) | 0µg |
| Fatty acids, total trans | 0µg |
| Stigmasterol | 0mg |
| Campesterol | 1mg |
| Beta-sitosterol | 0mg |
© U.S. Department Of Agriculture
| | |
| --- | --- |
| Chinesisch (traditionell) | 雞油菇 |
| Chinesisch (vereinfacht) | 鸡油菌 |
| Deutsch | Echter Pfifferling |
| Deutsch | Eierschwammerl |
| Deutsch | Pfifferling |
| Dänisch | Almindelig kantarel |
| Englisch | Golden Chanterelle |
| Estnisch | harilik kukeseen |
| Finnisch | keltavahvero |
| Französisch | Girolle |
| Galizisch | Cantarelo |
| Italienisch | Finferlo |
| Italienisch | Galletto |
| Italienisch | Gallinaccio |
| Italienisch | Gialletto |
| Japanisch | アンズタケ |
| Karanga | chihombiro |
| Katalanisch | Rossinyol |
| Katalanisch | Vaqueta |
| Koreanisch | 꾀꼬리버섯 |
| Litauisch | Valgomoji voveraitė |
| Nahuatl | Tecosa |
| Niederländisch | Hanenkam |
| Norwegisch | kantarell |
| Polnisch | Pieprznik jadalny |
| Portugiesisch | Rapazinho |
| Russisch | Лисичка обыкновенная |
| Schwedisch | Kantarell |
| Shona | chihumbiro |
| Spanisch | Anacate |
| Spanisch | Chantarela |
| Spanisch | Rebozuelo |
| Thailändisch | เห็ดมันปู |
| Tschechisch | liška obecná |
| Türkisch | kantarel mantarı |
| Türkisch | sarıkız mantarı |
| Ukrainisch | Лисичка справжня |
| Ungarisch | Sárga rókagomba |
| Wissenschaftl. Name | Cantharellus cibarius |
| Wissenschaftl. Name | Cantharellus cibarius cibarius |
| Zezuru | chihombiri |
Agaricus Cantharellus, Merulius Cantharellus, Cantharellus Vulgaris, Merulius Cibarius, Cantharellus Rufipes, Cantharellus Cibarius Var. Amethysteus, Cantharellus Cibarius Var. Rufipes, Craterellus Amethysteus, Craterellus Cibarius, Merulius Amethysteus, Alectorolophoides Cibarius, Chanterel Cantharellus, Cantharellus Edulis Sacc, Cantharellus Pallens, Cantharellus Cibarius Var. Amethysteus, Cantharellus Neglectus, Chanterel Chantarellus, Cantharellus Cibarius Var. Albidus, Cantharellus Pallens, Merulius Cibarius, Echter Pfifferling, Eierschwamm, Rehgeiserl, Reherl, Gelblättriger Pfifferling, Eierleistling, Dotterpilz, Echter Gelbling, Eierpilz, Recherl, Rehfüßchen, Eierschwammerl, Galluschel, Göbn, Gähling, Gänschen, Gallitschel, Gänsel, Schweinsfüsserl, Geelchen, Gehling, Gelbchen, Rilling, Gelbhänel, Gemeiner Pfifferling, Gelberla, Zechling, Marillenschwamm, Gelböhrchen, Gelbschwammerl, Nagerl, Goassrehling, Pfefferling, Rehgeiss, Rehgaißl, Rehling, Schweinsfüßerl, Röllchen, Zederling, Pfiffi
| | |
| --- | --- |
| Division | Basidiomycota |
| Class | Agaricomycetes |
| Order | Cantharellales |
| Family | Cantharellaceae |
| Genus | Cantharellus |
| Species | C. cibarius |
| Ecology | Mycorrhizal |