The common giant parasol, parasol or giant parasol mushroom (Macrolepiota procera) is a species of mushroom in the mushroom family Agaricaceae.
Due to frequent ambiguities in species delimitation in the genus of giant parasol mushrooms, the data may contain inaccuracies. The common giant umbrella mushroom has an Australian to boreal distribution. It has been recorded in the Americas, Europe, Africa, Asia, and Australia. In the Americas, the range extends from Canada to Chile. In Africa, it is found in Kenya and Madagascar, and in North Africa. In Asia, the species is distributed from Siberia and eastern Russia to Japan, as well as in India. In Europe, apart from the Arctic regions, it can be found everywhere. In Germany, the fungus is widespread and nowhere rare.
Antioxidant and antimicrobial properties
All forms of the common giant parasol are edible and are considered good mushrooms. Usually only the caps are used, which can be prepared similar to cutlets. The stems are often tough and not suitable for direct consumption, but can be made into mushroom powder. In very rare cases, nausea and vomiting have been reported after consumption.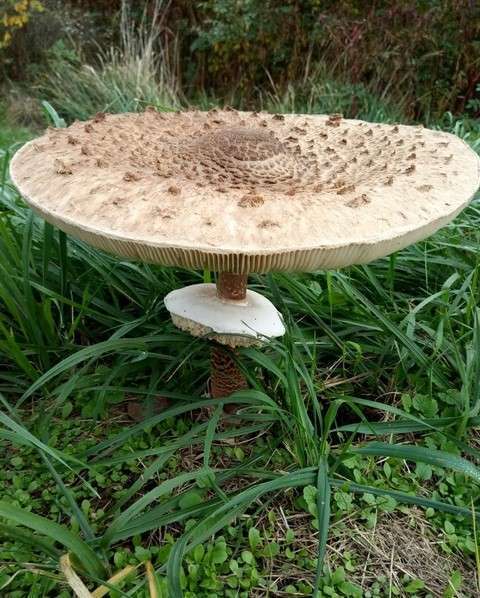 Over grain brood on a special substrate of oak leaves, straw, peat and cattle or horse manure Macrolepiota procera thrives.
For fruiting, Macrolepiota procera needs a cover soil in which a specific bacterium must be present. Conventional cover soils of coco, vermiculite or treated garden soil have not been successful for me so far. The only method that has worked so far has been to bury fully colonized pre-cultures outdoors. For experimentally established pouch or tub cultures, covering with a fresh sod is conceivable.
A well-draining soil is required; no Parasol likes to grow in mud. Buried cultures benefit from rootstocks of recyclable material such as fermented lawn clippings, oak leaves, and felled hardwood.
Agar Culture Media: MYPA, MEA,PDA
Cropping:
Containers for fruiting:
Biological efficience: –
Substrates: (Straw, 0.5% urea, 1% lime, 2% gypsum, 0.2% MgSO4, 4% wheat, Straw:Peat (1:1), Commercial compost, Rye Berries, grain mix, Bran, Oak

PH: 4,0 – 5,5
Secondary decomposers, single, no large clusters
S
P
A
W
N

P
R
I
M
O
R
D
I
A

F
R
U
I
T
I
N
G

Temp °C

22-24

15-24

16-21

Relative Humidity

%

90-100

80-90

Duration d

20-40

40-60

CO2 ppm

>10000

FAE per h

0-1

Light lux

–

ambient light



8h/d

ambient light



8h/d
Macrolepiota procera can be found in almost all mesophilous forest communities as well as in open grassland on loamy, fresh soils. It prefers sparse beech, oak and oak-hornbeam forests on nutrient-rich subsoil as well as corresponding spruce forests, meadows and pastures, parks, roadsides and forest edges. The ecological requirements are very similar to those of the wood anemone. On acid or sandy substrates the fungus occurs only sporadically and then with nutrient richness. In humid areas it is hardly found. The Parasol mushroom is found mainly in middle-aged and older forests. It can be found from planar to subalpine altitudes.
The Parasol lives saprobiontic. The fruiting bodies appear from July to November, occasionally earlier or delayed. In Mediterranean Europe they can be found already from May. They occur solitary to gregarious, sometimes in witch rings.
Mixed forests, forest edges, forest roads and heaths, early summer to late autumn.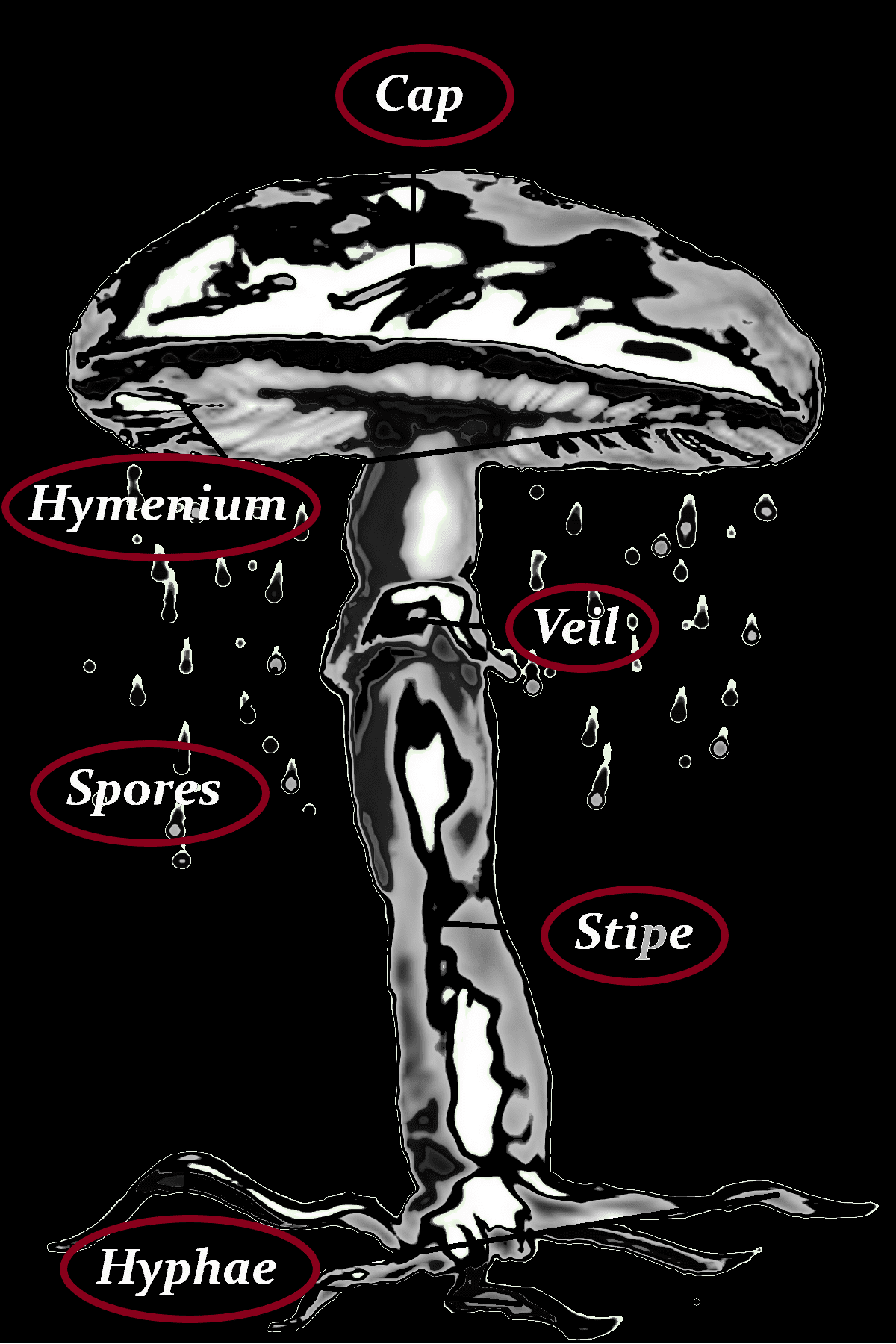 -3-25 (30) cm Ø
-light brown
-with soft, woolly scales, divided into zones
-hanging margin
Microscopically, all giant parakeets are very similar, so special attention should be paid to all macroscopic features.
Macrolepiota procera var. Fuliginosa, Chlorophyllum olivieri, Chlorophyllum rachodes, Macrolepiota excoriata, Leucoagaricus nympharum, Macrolepiota mastoidea, Macrolepiota fuliginosa, Chlorophyllum venenatum, Lepiota kuehneri, Lepiota fulvella
-6-30 (40) cm long
-2-7 (9) cm Ø thick
-whitish to light brown underground, dark brown
-streaks
-thin
-hard
-fibrous
-white
-12-18 x 9-12 µm
-ellipsoid shape
-woolly-whitish
-double-edged
-slippery on the stem
Macrolepiota procera's nutty aroma and sheer size of the cap make it attractive to collectors. Only the cap is used, it is suitable for burgers or for breading. Unfortunately, the mushroom often grows along field edges and is then considered inedible by many, as it is often contaminated with glyphosate. On markets as a wild mushroom often of Polish origin offered, but as a cultivated mushroom (yet) not available.
Smooth, light brown, reddish, white, staggered on stem
sweet, mild, a bit moldy, green nuts
contain vitamin D, iron, zinc, copper, selenium, fiber, amino acids
| | |
| --- | --- |
| Bulgarisch | |
| Bunun (Taiwan) | huung |
| Chinesisch (traditionell) | 高大環柄菇 |
| Chinesisch (vereinfacht) | 高大环柄菇 |
| Deutsch | Gemeiner Riesenschirmling |
| Deutsch | Parasol |
| Deutsch | |
| Dänisch | |
| Englisch | Parasol |
| Estnisch | lõoseen |
| Estnisch | suur sirmik |
| Finnisch | ukonsieni |
| Französisch | Coulemelle |
| Französisch | Lépiote élevée |
| Galizisch | Chouparro |
| Galizisch | Choupín |
| Galizisch | Roco |
| Hebräisch | מטרנית גדולה (ססגונית) |
| Italienisch | |
| Japanisch | カラカサタケ |
| Katalanisch | Apagallums |
| Koreanisch | 큰갓버섯 |
| Kroatisch | |
| Litauisch | |
| Magyar | |
| Niederländisch | |
| Norwegisch | |
| Polnisch | |
| Portugiesisch | Arneirinha |
| Portugiesisch | Frade |
| Portugiesisch | Gasalho |
| Portugiesisch | Púcara |
| Portugiesisch | Roca |
| Portugiesisch | Tortulho |
| Russisch | |
| Schwedisch | |
| Slovene | orjaški dežnik |
| Slowakisch | Bedľa vysoká |
| Spanisch | |
| Spanisch | Matacandil |
| Tschechisch | bedla vysoká |
| Ukrainisch | |
| Wissenschaftl. Name | |
| Wissenschaftl. Name | |
| Wissenschaftl. Name | Lepiota procera rubescens |
| Wissenschaftl. Name | |
'Macrolepiotaprocera, Mastocephalus procerus, lepiotaprocera, lepiotophyllum procerum, macrolepiota permixta, macrolepiota procera f. Fuliginosa, Parasol, Riesenschirmling, riesenschirmpilz, paukenschläger, paukenschleger, gemeiner riesenschirmling, gugermukken, dunkler parasol, schulmeisterpilz, eulchen, großer schirmling
| | |
| --- | --- |
| Division | Basidiomycota |
| Class | Agaricomycetes |
| Order | Agaricales |
| Family | Agaricaceae |
| Genus | Macrolepiota |
| Species | M. procera |
| Ecology | Saprotrophic |