Reishi (Ganoderma lucidum) is a fungus from the Lackporling family (Ganodermataceae).
Dried fruiting bodies retain color, luster and structure for decades. Particularly large mushrooms or sculptures are sought-after exhibits.
Ganoderma lucidum contain comparatively little water and therefore shrink only slightly during drying. Processing them into tea, powder or tinctures requires mechanical comminution, which most simple coffee grinders, vegetable graters or food processors cannot do. The texture of the dry fruiting bodies can be compared to the toughest cork. To obtain a powder from the mushroom is extremely difficult without industrial technology, even a granulate with 2-3 mm grain size requires a powerful motor rasp. Hobbyists help themselves e.g. with rasp discs for woodworking, which run on a flex.
Its healing powers are said to range everything from high blood pressure reduction to fighting off HIV. This amazing fungus has become a hit sensation throughout the world due to its numerous benefits and lack of any negative side effects.
Since Ganoderma lucidum respires just like humans, oxygen in and carbon dioxide out, when it is consumed it adds a quality source of oxygen to the body.
Ganoderma lucidum can be taken long term without developing any tolerance to it.
Ganoderma lucidum has no known major side effects and can be taken by all age groups.
Unlike lots of medicines, G. lucidum goes to work strengthening the cells, rather than fighting the disease. This is beneficial because it is now possible for the body to fight the source of the problem itself.
This fungi was traditionally associated with Chinese royalty, health, longevity, wisdom, sexual prowess, and happiness.
The shiny lacquer mushroom is mentioned in numerous legends and was also used as a talisman in the past. It was hung in buildings to prevent misfortune.
Ganoderma lucidum has been used for thousands of years by Far Eastern countries for medicinal purposes. It was thought to have anti aging qualities and was taken for any and all ailments for these people. Today, over 400 active ingredients have been found with G. lucidum that have medicinal properties. Most of the beneficial compounds are actually found within the spores. Scientists have now started making progress on efficiently breaking through the hard spore shell so that maximum benefits can be achieved by patients and consumers. Some of the major components include an organic form of Germanium, triterpenes and polysaccharides. These are all said to boost the immune system. Also found is superoxide dismutase, a substance effective in fighting the effects of aging. Adenosine monophosphate is another compound that is thought to help lower blood pressure and to remove blood vessel blockage. Other beneficial minerals also found in G. lucidum include Potassium, Magnesium, Calcium, Sodium, Manganese, Iron and Zinc.
Ganoderma lucidum is valid as a medicinal mushroom in naturopathy or in traditional Chinese and Japanese medicine for:
-accompanying therapies, transplants and after cancer therapies
-for nervous weakness, stomach ulcers, hypertension, sleep disturbances, arthritis, allergies and, liver cirrhosis, cardiovascular problems, muscle diseases, dizziness, asthma, hepatitis A, B, C, obesity
-antifibrotic, anti-inflammatory
-preventive or concomitant chronic inflammatory diseases of the kidneys, stomach, spleen, liver, lungs and heart
The potential uses for Ganoderma lucidum are staggering. Some of the claimed benefits include anti-tumor and cancer fighting effects, much like what the black pepper extracts can do. In fact, a study published in the journal of Experimental Oncology said that, "Ganoderma lucidum extract inhibits proliferation of human colorectal cancer cells and possesses antioxidant properties"(Xie, J. et al 2006). Along those same lines another study came out stating, "The overall findings indicated that Ganopoly had antitumor activity…" and that it may also have "promising immunotherapeutic agent in cancer treatment"(Gao Y, et al 2005). Ganoderma lucidum has also been used as a anxiety reducer, improvement in sleep, circulation, and brain functions. Much like venom from the Southeastern Pygmy Rattlesnake, G. lucidum is said to help lower blood pressure. It is also said to give a boost in the immune system, bronchitis and asthma relief, anti-allergenic, anti-inflammatory, anti-bacterial, improved adrenocortical function, improvement in acne, chronic hepatitis, and menopause, and is said to provide a boost in energy. Gandoderma lucidum has been shown to have anti-HIV activity much like the Chinese herb Ginseng. Ganoderma lucidum has also been used effectively to help lower some of the negative side effects of chemotherapy and radiation therapy.
© MichelBeeckman (MichelBeeckman)
Ganoderma lucidum grows on hardwood logs or pasteurized or sterilized hardwood-based substrates. Straw and hemp as admixtures work well. Coffee, alfalfa, and other rich supplements pay off for noble spores; the active ingredient content has been shown to be higher when the fungus has been well fattened.
A supplement with timothy hay is considered an "insider's tip" for lacquer porcini of all species, many varieties like a mixed wild bird feed (without coarse fatty fruit content), which is also best used as a substitute for grain for brood production. Incubation is done in darkness with as little movement as possible at 20°C-25°C.
European Reishi generally need shorter maturation periods after colonization, but give the intercropped crop at least 4 weeks to gather enough strength to produce reasonably large fruiting bodies. This variety also thrives at moderate temperatures around 15-18°C, but benefits from warmer climates.
When cultivated at around 25°C, with permanently high humidity and sufficient light and air exchange, the formation of colorful caps with sharp color zoning, strong varnish effect and broad white accretion zone occurs.
Partial deprivation of fresh air and light, on the other hand, leads to so-called "antlers" or "antlers". A suitable porling substrate can be found here…
Best results are achieved if Ganoderma lucidum is allowed to fructify through the filter of the culture container to obtain only one fruiting body. This also keeps the culture permanently free of contamination. Also, the breaking away of unwanted smaller fruiting bodies results in single large mushrooms. Recent scientific findings show that the content of ganodermic acid can be increased if part of the substrate consists of wheat straw.
Stem cultures of Reishi outdoors should be protected from snails with appropriate measures, they are not deterred by the bitterness of the mushrooms and like to nibble on the fresh white growth.
Attempts to cultivate Ganoderma lucidum have proven quite effective. Three main methods exist today. They include wood log cultivation, which is the most popular to date, pot or bottle cultivation, and tank cultivation. For wood log cultivation, hardwood logs or chips are placed in warm, moist environment that are suitable for growth. The spores are then released onto them where they can start to germinate. This can be done in both lab and relaxed settings. The full growth cycle can take up to one year but it is seen as producing a superior product. Growth can also be done using wood chips and chemicals in vacuum packing. This yields a much faster harvest time, around two months, but is seen as producing a lower quality product.Cultivated G. lucidum
S
P
A
W
N

P
R
I
M
O
R
D
I
A

F
R
U
I
T
I
N
G

Temp °C

21-27

18-27

21-27

Relative Humidity

%

95-100

95-100

90-95

Duration d

10-20

14-28

60

CO2 ppm

>5000

Antler formation:



>10,000 ppm

Conk formation:

<2000 ppm

Antler formation:



>10,000 ppm

Conk formation:

<2000 ppm

FAE per h

0-1

4-8 (Conk)

4-8 (Conk)

Light lux

–

Antler formation:



<500 lux for 4-8h

Conk formation:

500-1000 lux for 12h

750-1500 lux for 12h/day
Agar Culture Media: MEA
Cropping Cycle: 1-2 crops 90-120 days apart
Containers for fruiting: Wood logs, indoor mycelium bags for cultivation in a greenhouse, mushroom bed / patch
Biological efficiencies: –
Substrates: Hardwood (most suitable: beech, oak, alder, birch)
Ganoderma lucidum's surface is damp and shiny, the thin, soft, light yellow resin layer melts with fire
mostly a subsequent decomposer but occasionally also a dangerous parasite of weakness in living trees, white rot trigger
Reishi is a wood-inhabiting saprobiont or weak parasite, which mainly colonizes hardwoods. The substrate is mainly oak, but also other deciduous woods, more rarely conifers (spruce and pine). The fungus lives mainly in oak or oak-mixed forests, which are favorable for warmth, and also in red beech forests and hardwood meadows. Outside of these biotopes, the glossy paint porling can be found on hedges, in parks and on roadsides, if the appropriate substrate (oaks or copper beech) is available there. The annual fruiting bodies are found on tree stumps, roots or at the base of trunks of living host trees.
Ganoderma lucidum is seen throughout the world in temperate and subtropical locations including North and South America, Europe, and Asia. It is commonly seen to the east of the Rocky Mountains, particularly in the Gulf Coast regions. Its range extends as far north as Canada and south into Argentina.
hardwood, mostly, beech, oak rarely on coniferous wood, annual, regionally rare, easy to cultivate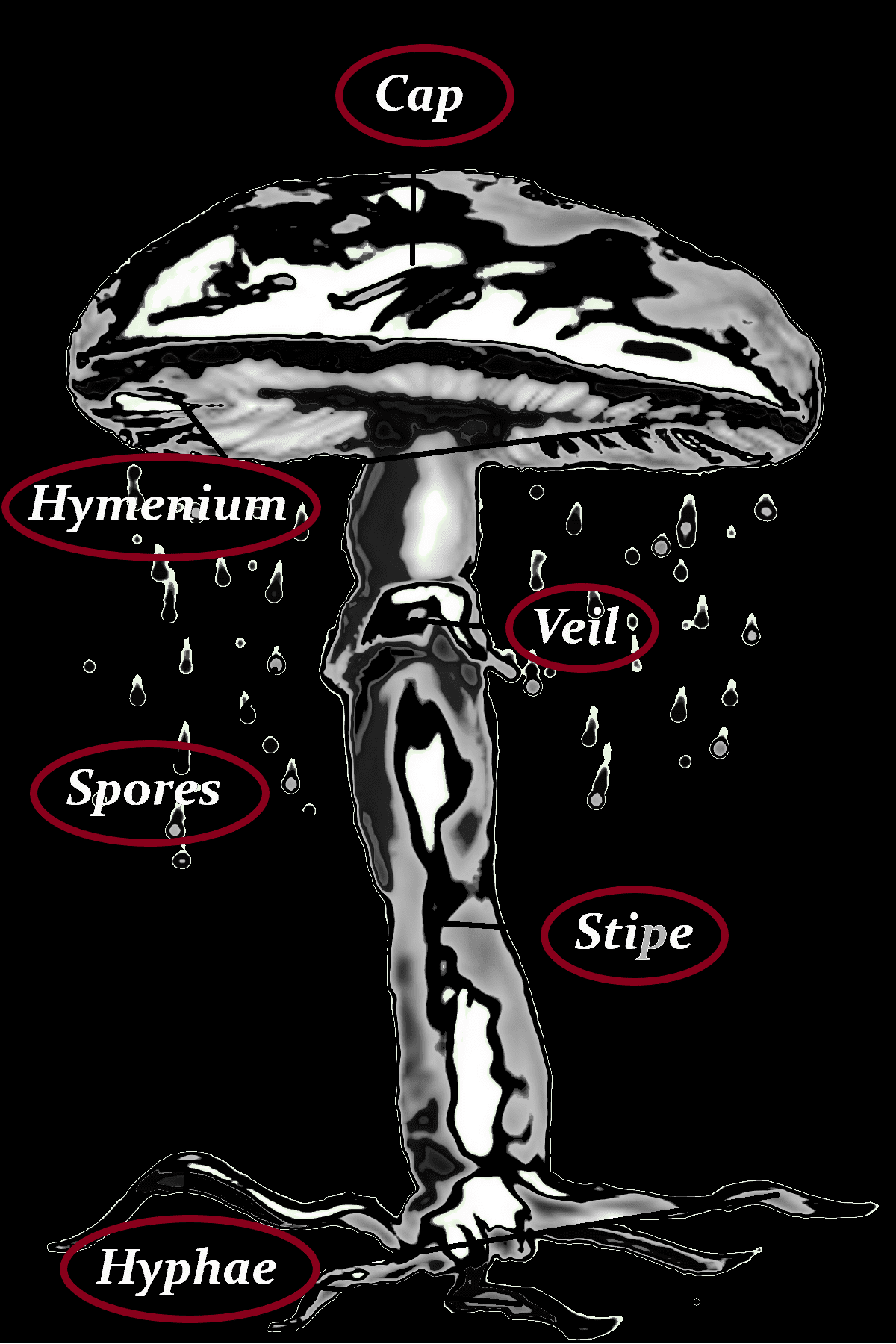 -4-15 (20) Ø
-rounded, grooved concentrically
-yellow-orange to red-brown glossy, shimmering purple, old black-brown,
-surface can be easily dented
-edge (growth zone) whitish when young
-sometimes stalked, sometimes just spread out flat
-handle red-brown, black-brown coated like varnish
-trimetriccicular
-generative and sketal hyphae
-smooth to slimy
-pores
-whitish to cream colored
-4-5 per mm
-porebrown
-9-12 x 5,5-8µm
Ganoderma pfeifferi, Ganoderma carnosum, Ganoderma applanatum, Ganoderma curtisii
There are many ways for Ganoderma lucidum to get delivered into the human body. Some are higher quality but a little pricey. On the flip side, there are more affordable but lower quality options. There is even organic G. lucidum products out on the market. A few of these include Reishi tea, spore powder capsule, spore oil soft gel capsule, and coffee with G. lucidum extract.
young whitish, later brownish, firm, tough
Nutritional content per 100g
Mineral
Potassium
430mg
Phosphorus
225mg
Sulfur
130mg
Magnesium
8mg
Sodium
2.8mg
Calcium
1.9mg
Copper
26mg
Manganese
22mg
Iron
2.22mg
Zinc
0.7mg
Thiamine (B1)
3.5mg
Riboflavin (B2)
17mg
Niacin (B3)
62mg
Pyridoxine (B6)
0.7mg
Ascorbic acid
32mg
Bioactive Compounds
Triterpenoids
Ganoderic acids, lucidumol, lucialdehyde, lucidenic acids, ganodermic, ganolucidic acids, ganoderals, ganoderiols
Anticancer
Triterpenoids
Antidiabetic
Ganoderic acids T-Q and lucideinic acids A, D2, E2, and P
Anti-inflammatory
Triterpenes
Antioxidant
Ganoderic acids, ganodermin, ganoderic acid A, ganodermadiol, ganodermanondiol, lucidumol B, ganodermanontriol, ganoderic acid B, ganolucidic acid B
Antimicrobial
Triterpenoids, ganoderic acid, ganoderiol F, ganodermanontriol
Antiviral
Polysaccharides
1→3, 1→4, and 1→6-linked β and α-D (or L)-glucans, GLP-2B
Anticancer
Polysaccharides
Antidiabetic
Polysaccharides
Antioxidant
Polysaccharides
Antimicrobial
Polysaccharides (ganopoly)
Cardiovascular problems
Proteins, Glycoproteins, and Peptidoglycans
Glycopeptides and peptidoglycans
Anticancer
Protein Ling Zhi-8 (LZ-8), lectin, ribosome-inactivating proteins, antimicrobial proteins, glycopeptides/glycoproteins, peptidoglycans/proteoglycans, ganodermin A, ribonucleases, proteinases, metalloproteases, laccases
Immunomodulatory, anticancer, and antitumor
Proteoglycans, proteins (LZ-8)
Antidiabetic
Polysaccharide–peptide complex
Antioxidant
Phenolic compounds
Phenolic components, phenolic extracts
Antioxidant
Saponins
Anticancer and antioxidant
Sterols; e.g., ergosterol
Provitamin D2
Long-chain fatty acids
Antitumor
| | |
| --- | --- |
| Moisture | 48% |
| pH value | 5.6% |
| Energy | 240kcal |
| Water-soluble proteins | 19% |
| Total lipids | 3.00% |
| Reducing sugars | 4.4% |
| Nonreducing sugars | 1% |
| Total sugars | 5.4% |
| | |
| --- | --- |
| Afrikaans | |
| Chinesisch (traditionell) | 靈芝 |
| Chinesisch (vereinfacht) | 灵芝 |
| Deutsch | |
| Dänisch | |
| Englisch | |
| Finnisch | lakkakääpä |
| Französisch | |
| Hebräisch | בהוקית מבריקה |
| Katalanisch | pipa |
| Koreanisch | 영지 |
| Litauisch | |
| Niederländisch | |
| Norwegisch | lakkjuke |
| Polnisch | |
| Portugiesisch | |
| Russisch | |
| Schwedisch | lackticka |
| Serbian | |
| Slovene | |
| Slowakisch | |
| Spanisch | Hongo Reishi |
| Tschechisch | |
| Ukrainisch | Ганодерма блискуча (трутовик лакований) |
| Ungarisch | |
| Wissenschaftl. Name | |
| Wissenschaftl. Name | |
| Wissenschaftl. Name | Fomes lucidus |
| Wissenschaftl. Name | |
| Wissenschaftl. Name | |
Polyporus Laccatus subsp. laccatus, Polyporus lucidus var. japonicus, Ganoderma Mongolicum, Scindalma Japonicum, Phaeoporus lucidus, Placodes lucidus, Polyporus Laccatus, Polyporus lucidus, Red Reishi, Divine or Spiritual Mushroom, Ling Chi, Ling Chih, Ling Zhi, Tree of Life Mushroom, Mannentake, 10,000-Year Mushroom, Mushroom of Immortality, Sawai-take, Good-Fortune Mushroom, Sarunouchitake, Monkey´s Seat, The Panacea Polypore, Mannentake (Japanese for "10,000 Year Mushroom"), Mushroom of Immortality, Saiwai-take (Japanese for "Good-fortune mushroom"), Sarunouchitake (Japanese for "Monkey's Seat"), The Panacea Polypore
Division Basidiomycota
Class Agaricomycetes
Order Polyporales
Family Ganodermataceae
Genus Ganoderma
Species G. lucidum
Ecology Saprotrophic