Hericium cirrhatum, Syn.: Creolophus cirrhatus is a species of fungus in the spiny beard family.
Hericium cirrhatum is edible when young. Due to its rarity (Red List G3), the species should be protected. A native mushroom, now rare and endangered, although common throughout Europe and North America.
Good breeding success of Maitake is achieved on a standard recipe for wood decomposers. Especially important is the structure of the substrate, it must be loose-fluffy and can breathe well. Use not only very fine, but also medium-fine sawdust, preferably from beech.
Aim for only single fruiting bodies on the substrate, better leave the culture only a few fruiting windows, ideally only pinpricks in places where primordial growth is already visible, instead of exposing them over a large area.
Do not let Hericium cirrhatum sit too long on the substrate, such fruiting bodies often taste bitter. For this reason, a rapid course of culture is advantageous.
Agar Culture Media: MEA
Cropping:
Containers for fruiting: Logs, tree stumps, indoor growing bags, fallen trees
Biological efficience: –
Substrates: Rye Berries, grain mix, Hardwood
Secondary decomposer, white rot trigger
S
P
A
W
N

P
R
I
M
O
R
D
I
A

F
R
U
I
T
I
N
G


Temp °C

21-24
10-16
18-24

Relative Humidity

%

95-100
95-100
90-95

Duration d

10-14
2-5
4-5

CO2 ppm

>5000
500-1000
500-1000

FAE per h

0-1
5-8
5-8

Light lux

–
500-1000
500-1000
Hericium cirrhatum grows from August to November on the rotten wood of dead deciduous trees. It occurs on copper beech, birch and oak trees. The saprophytic fungus produces white rot on its substrate.
Deciduous trees, dead wood, preferably beech, birch, late summer to winter, very rarely also from June onwards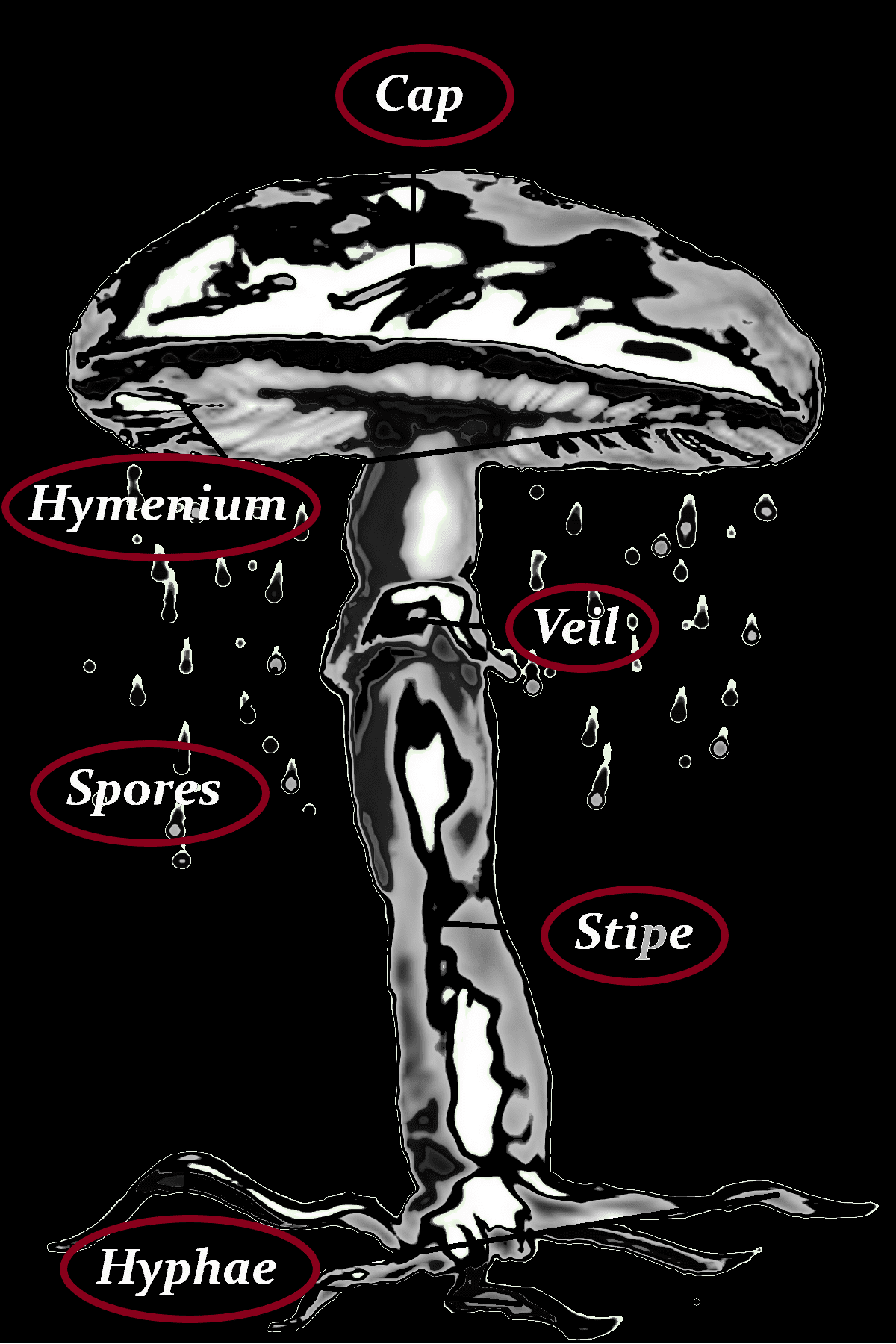 -5-20 (25) cm Ø
-white, later dirty yellow, orange, pink to discolored red
-formed by individual, mostly irregularly lobed, often bent or twisted caps
-branches whitish and yellowish downward
-departing from the common stem
-white

-2.8-4.5 x 3-4.2 µm

-amyloid

-broadly ellipsoid to nearly spherical

-smooth
Nördlicher Stachelseitling, Tannenstachelbart, Igelstachelbart, Ästiger Stachelbart
Hericium cirrhatum are considered very delicate when young, older specimens are occasionally described as bitter.
whitish, yellowish, soft, tough when old, fleshy, brittle, yellowing when injured
pleasant, similar to the sulfur porling
Nutritional content per 100g
Proximates:
Water
88.6g
Energy (Atwater General Factors)
43kcal
Energy (Atwater Specific Factors)
35kcal
Nitrogen
0.4g
Protein
2.5g
Total lipid (fat)
0.26g
Ash
1.08g
Carbohydrates:
Carbohydrate, by difference
7.59g
Minerals:
Calcium, Ca
<2.5mg
Iron, Fe
0.69mg
Magnesium, Mg
11.7mg
Phosphorus, P
94mg
Potassium, K
443mg
Sodium, Na
0mg
Zinc, Zn
0.74mg
Copper, Cu
177mg
Manganese, Mn
0.18mg
Selenium, Se
1.8µg
Vitamins and Other Components:
Thiamin
146mg
Riboflavin
363mg
Niacin
1.63mg
Vitamin B-6
66mg
Biotin
17µg
Folate, total
30µg
Vitamin D (D2 + D3), International Units
0.8IU
Vitamin D (D2 + D3)
0.02µg
Vitamin D2 (ergocalciferol)
0.02µg
Vitamin D4
0µg
Phytosterols:
Stigmasterol
<0.2mg
Campesterol
<0.2mg
Beta-sitosterol
<0.2mg
Ergosta-7-enol
2.52mg
Ergosta-5,7-dienol
4.41mg
Ergosta-7,22-dienol
819mg
Ergosterol
68mg
Beta-sitostanol
<0.2mg
Delta-5-avenasterol
<0.2mg
Delta-7-Stigmastenol
<0.2mg
Amino acids:
Ergothioneine
17mg
© U.S. Department Of Agriculture
| | |
| --- | --- |
| Deutsch | |
| Dänisch | |
| Englisch | |
| Finnisch | tupasorakas |
| Niederländisch | |
| Norwegisch | |
| Russisch | |
| Schwedisch | |
| Tschechisch | |
| Ungarisch | |
| Wissenschaftl. Name | |
| Wissenschaftl. Name | |
| Wissenschaftl. Name | |
| Русский | |
Hericium Cirrhatum, Creolophus Cirrhatus, Creolophus Cirratus, Dorniger Stachelbart, Dorniger Stachelseitling
| | |
| --- | --- |
| Division | Basidiomycota |
| Class | Agaricomycetes |
| Order | Russulales |
| Family | Hericiaceae |
| Genus | Hericium |
| Species | H. cirrhatum |
| Ecology | Saphrotrophic |