Psilocybe cyanescens, also known as blue-green or blue-spotted bald head, is sold to strangers in Bali as a hallucinogen. The center of mushroom consumption in Java is the area around Yogyakarta, the Sultan's ancient city near Borodur. The sacrificial bundles of the temple districts are adorned with mushroom sculptures. One way or another, tie-dye artists eat these magic mushrooms to get inspiration for their work and to see visions.
Psilocybe cyanescens is eaten fresh or dried. These mushrooms, which grow on cow, buffalo or horse dung, grow in Java and Bali during the rainy season.

Te Wavy Cap has a strong hallucinogenic effect. The psilocybin content can reach up to 2% of the dry matter. The latency period of this fungus ranges from 15 minutes to 4 hours.
-Red-brown discoloration on contact with potassium hydroxide solution (KOH)
-dark brown with sodium hydroxide solution (NaOH)
-with iron sulfate (FeSO4) light brown to light yellow-brown
-No staining with phenol
In progress – Infos following soon
S
P
A
W
N

P
R
I
M
O
R
D
I
A

F
R
U
I
T
I
N
G


Temp °C

18-24
7-13
10-18

Relative Humidity

%

95-100
95-100
90-95

Duration d

45-60
10-14
10-20

CO2 ppm

>5000
1000-2000
1000-2000

FAE per h

0-1
2-4
2-4

Light lux

–
400-800
400-800
Agar Culture Media: LMEA
Cropping Cycle: Two cops, 3-4 weeks apart
Containers for fruiting: Woodlogs, Treestemps
Biological efficiencies: medium
Substrates: wood, humus
They all clearly visible brown and wavy. Also they grow grouped together.
Late summer to late fall
Deciduous forest, alluvial forest, calcareous soil, in moist forests or gardens, on dead wood, humus, later decomposers
Psilocybe cyanescens is found in North America, North Africa, and Europe. In Europe, finds have been reported in Sardinia, Serbia, Italy, France, the Netherlands, Great Britain, Switzerland, the Czech Republic, and Germany.
Psilocybe cyanescens thrives in warm areas of both hemispheres. Occurs singly to numerous in manure, well-fertilized soil, grassy areas, meadows, or pastures. It is actually a subtropical art that is also seen in southern Europe up to Hungary. There are reports of finds from Hawaii, Mexico, Java, Bali, and the south of France. Harvest time is from September to October.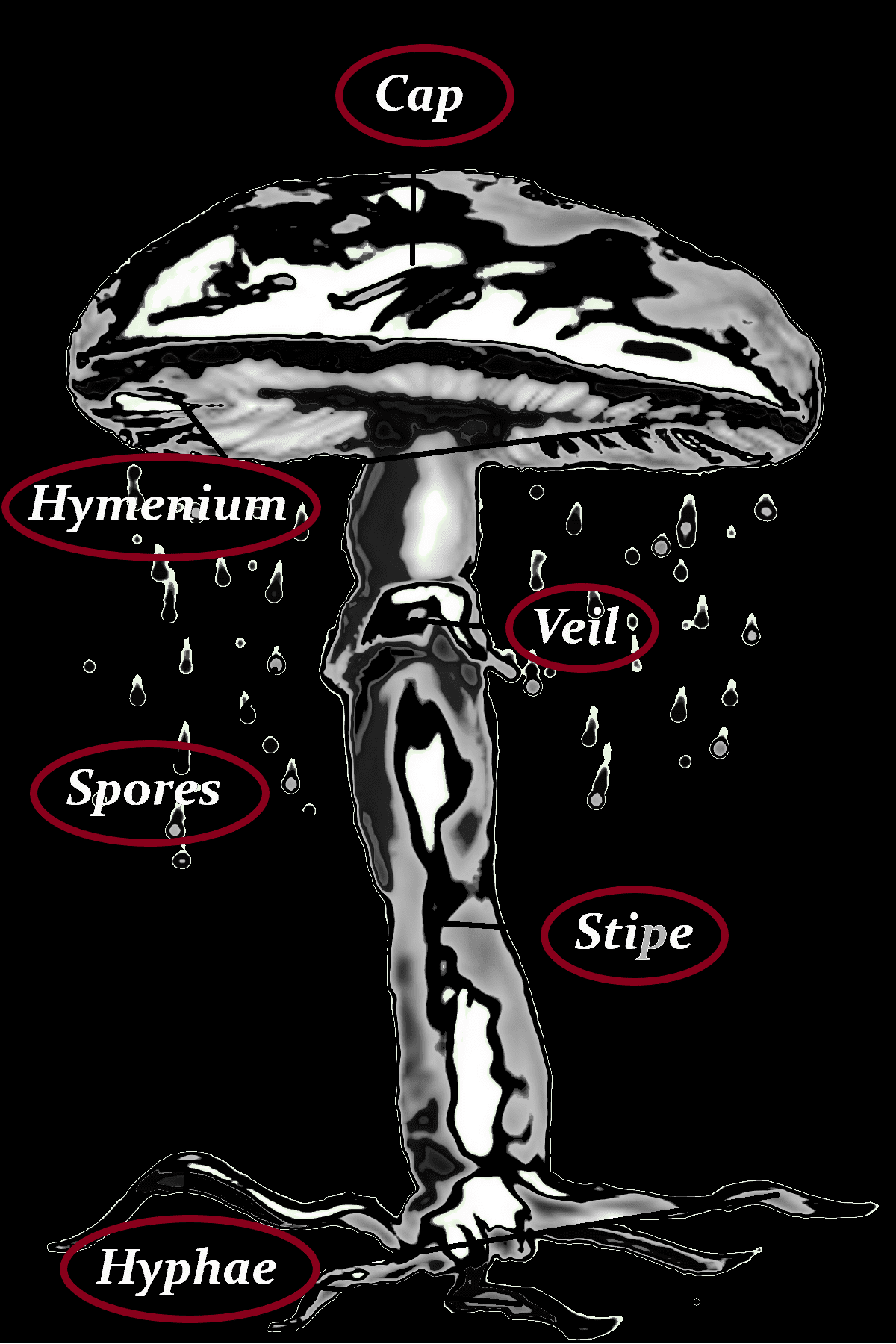 -2-4 (5) cm
-grayish brown, light brown, hazel
-pale ochre yellowish when dry
-hygrophanous
-greasy when wet
-hemispherical
-somewhat humped
-shallowly conical
-later shallowly convex
-greenish blue when injured
-3-8 (11) cm high
-0.3-0.7 (1) cm thick
-light brownish, whitish
-white-fibrous-floccose
-usually darker brownish to base and strongly whitish overfibrous
-base with mycelium white-felted
-green-blue when pressed
-gray, gray-brown, cinnamon-brown, dark brown
-broadly adnate
-sometimes a little with tooth running down
-very distant standing
-spotted from the spores
-cutting lighter
-with intermediate lamellae
9-12 x 6-8 µm
-blackish brown, dark purplish to pinkish brown
PSILOCYBE SERBICA VAR. BOHEMICA, PANAEOLUS CYANESCENS, PSILOCYBE ALLENII, PSILOCYBE SEMILANCEATA, PROTOSTROPHARIA SEMIGLOBATA, PANAEOLUS PAPILIONACEUS, PANAEOLUS GUTTULATUS, PANAEOLUS FIMICOLA
-dark brown
-drooping
-grooved
There is an urgent warning against food experiments with Psilocybe cyanescens. Collecting, possessing and selling drug mushrooms is illegal in many countries around the world.
Depending on the particular strain, growth method, and age at harvest, psilocybe mushrooms can come in rather different potencies. It is recommended to weigh the actual mushrooms, better then counting them. 10% of the mushrooms mass is left, when dried. Take a look at Properties, to find out how potent they are.
The effect of Psilocybe cyanescens is said to be quite powerful. Everyone who has tried it raves about the extraordinarily plastic visions. Batik paintings by Javanese artists in the city of Yogyakarta give artistic expression to these colorful and heavily mythological visions.
Duration:
about 5-6 hours
-brownish

-bluish when bruised
After the poisoning in Menton (France), the group around A. Hofmann detected 0.2% psilocybin in the Wavy Cap. However, due to the strong effect of the fungi, this concentration seems too low. Later, Sandoz Laboratories found 0.8% psilocybin and 1.2% psilocin in the mushroom species.
In Thailand by J.W. According to Stijve, all Psilocybe cyanescens collected contained 0.4-1.05% psilocin and only trace amounts of psilocybin; Serotonin was plentiful. A. Hofmann himself claims a content of 1.2% psilocin and 0.6% psilocybin, the highest content of these alkaloids ever found in a hallucinogenic mushroom.
cyans, Wave Cap, blue halos, blueing psilocybe, potent psilocybe, wavy-capped psilocybe, Blauender Kahlkopf, Blaugrünfleckender Kahlkopf, Blaufärbender Kahlkopf, blueleg brownie, Blauender Duengerling, Pan Cyan, Copelandia c. (Berkeley & Broome) Singer, Agaricus c. Berkeley & Broome, Faltenduengerling, Copelandia papilonacea (Bull.) Bres., Campanularius anomalus Murrill, P. anomalus (Murrill) Sacc. & Trott., Campanularius westii Murrill, P. westii (Murrill), Copelandia westii (Murrill) Sing., Copelandia c. (Berkeley & Broome) Boedijn, Jambur