Psilocybe azurescens fungus was first discovered in the United States near Astoria, Oregon, for which it received the name "Psilocybe astoriansis." It was later given its mycologically correct name, Psilocybe azurescens, due to the blue color it produces when injured. This species of fungus belongs to the genus Psilocybe (the bare-headed).
Psilocybe azurescens has a strong hallucinogenic effect. The psilocybin content can be almost up to 1.8%, the psilocin 0.4% and baeocystin 0.4% of the dry matter.
Distinguishing this species is often very difficult and is usually only safely possible microscopically. Fatal confusions with "Rauköpfen" are possible.
In progress – Infos following soon
S
P
A
W
N

P
R
I
M
O
R
D
I
A

F
R
U
I
T
I
N
G


Temp °C

Relative Humidity

%

Duration d

CO2 ppm

FAE per h

Light lux
Agar Culture Media:
Cropping Cycle:
Containers for fruiting:
Biological efficiencies:
Substrates:
Season: late summer to late fall

Pacific Northwest October to late November

Europe end of September to mid-October
Deciduous forest, calcareous soils, in moist forests or gardens, on dead wood, humus, late decomposers, cultivated as a drug. The mycelium thrives on wood debris, pine bark, straw, and moist cardboard and paper.
Psilocybe azurescens most common in the Astoria, Oregon area (the type locality), however the species is spreading rapidly due to deliberate outdoor cultivation. It has been reported as far north as Santa Cruz, California, although it is not common in California. Fruiting typically occurs in January in California.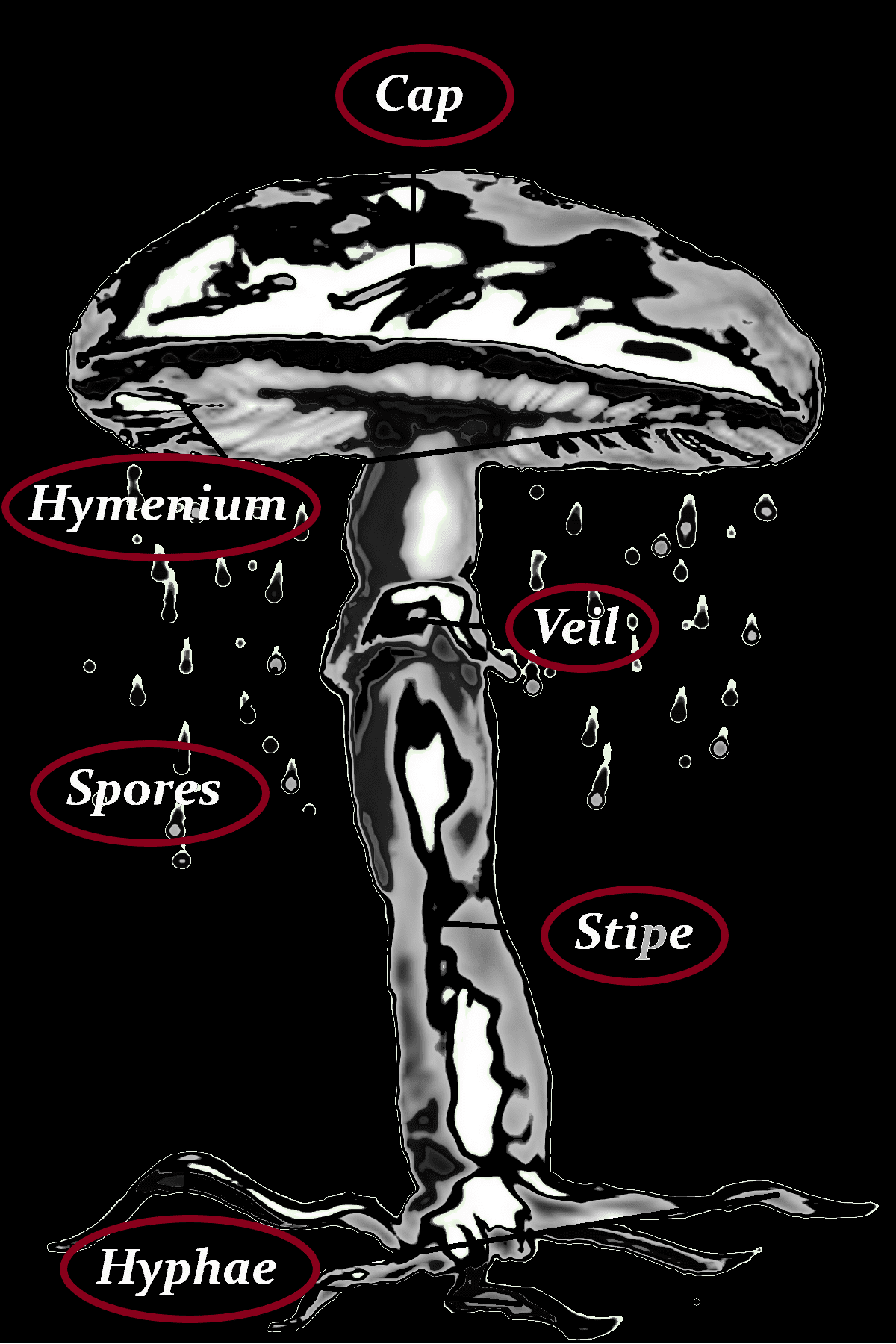 -1-2 (3) cm
-grayish brown, light brown, hazel, orange-brown
-pale ochre yellowish when dry
-hygrophanous
-smeary when wet
-hemispherical, later flattened, humped
-young hemispherical, margin slightly grooved
-2-6 (7) cm long
-0.1-0.4 (0.5) cm thick
-light brownish, orange-brown
-strongly whitish overfringed
-often curved
-sky-blue to brownish-blue at base, blackish-blue
8-11 x 3.5-5 µm
-purplish brown to purplish black
-gray, gray-brown, cinnamon-brown, dark brown, reddish brown
-broadly attached
-sometimes also somewhat with tooth running down
-very remotely standing
-whitish, with intermediate lamellae
-discolorig dark blue to black-blue at pressure points
PSILOCYBE ALLENII, PSILOCYBE SERBICA VAR. BOHEMICA, PANAEOLUS CYANESCENS, PSILOCYBE SEMILANCEATA, PROTOSTROPHARIA SEMIGLOBATA, PANAEOLUS PAPILIONACEUS, PANAEOLUS GUTTULATUS, PANAEOLUS FIMICOLA
-dark brown
-drooping
-grooved
There is an urgent warning against food experiments. Collecting, possessing and selling drug mushrooms is illegal in many countries around the world.
Depending on the particular strain, growth method, and age at harvest, Psilocybe azurescens can come in rather different potencies. It is recommended to weigh the actual mushrooms, better then counting them. 10% of the mushrooms mass is left, when dried. Take a look at Properties, to find out how potent they are.
This is the most potent type of Psilocybe mushroom known. Strong hallucinogenic effects can be expected. It even exceeds the effect of Psilocybe cubensis or Psilocybe semilanceata.
-neutral to slightly mealy
-brownish, bluish

-stem bark darker brown

-whitish in stem core
There is a precise quantitative analysis of the ingredients contained in the collective work of Raetsch Christian and Liggenstorfer Roger: "Pilze der Goetter":
| | | | |
| --- | --- | --- | --- |
| Fungi | Psilocybin | Psilocin | Baeocystin |
| 1 | 1,71 | 0,34 | 0,41 |
| 2 | 1,68 | 0,28 | 0,38 |
| 3 | 1,56 | 0,30 | 0,32 |
| 4 | 1,40 | 0,31 | 0,28 |
Since baeocystin is also psychoactive, it can be assumed that 1 g of dried mushrooms contains up to 25 mg of psychoactive indole alkaloids. This is the largest ammount ever tested.
The Blue Angel, flying saucer mushroom, indigo psilocybe, Psilocybe astoriensis, Stattlicher Kahlkopf, Azurblauverfärbender Kahlkopf