Africa's Shrooms
Psilocybin Mushroom Species
© Koppen-Geiger
Africa's climate ranges from tropical to sub-arctic at its highest peaks. Its northern half consists mainly of desert or drought, while its central and southern areas contain both savanna plains and regions of dense jungle (rainforest). In the middle there is a convergence where vegetation patterns such as the Sahel and the steppe dominate. Africa is the hottest continent on earth and 60% of the total land area consists of arid areas and deserts.
Africa has more than 3,000 protected areas, including 198 marine reserves, 50 biosphere reserves and 80 wetland reserves. Significant habitat degradation, population growth and poaching reduce Africa's biodiversity and arable land.
According to the United Nations Environment Program (UNEP), Africa is twice as badly affected by deforestation. According to the Center for African Studies at the University of Pennsylvania, 31% of grazing lands and 19% of forests and forests in Africa are classified as degraded, and Africa is losing more than 4 million hectares of forest annually, double the average rate of deforestation. Rest of the world. Some sources claim that around 90% of West Africa's original virgin forests have been destroyed and more than 90% of Madagascar's original forests have been destroyed since the arrival of humans 2,000 years ago. About 65% of the agricultural area of ​​Africa suffers from soil degradation.
Psilocybin species sorted by Region
Gymnopilus is a genus of gill fungi within the Strophariaceae mushroom family that contains about 200 species of rusty orange spored mushrooms, previously divided into Pholiota and the nonexistent genus Flammula. The fruiting body is typically reddish brown to rusty orange to yellow, medium to large in size, often with a well developed veil. Flammulina lives on deadwood, earth, raw humus, peat, charred wood and burned lands. One kind populates pastureland. They rarely grow in large quantities, they can be parasitic on the roots or base of tree trunks. Members of Pholiota and Cortinarius are easy to confuse with Gymnopilus and Galerina, which contain poisonous and deadly species.
The name means naked pileus.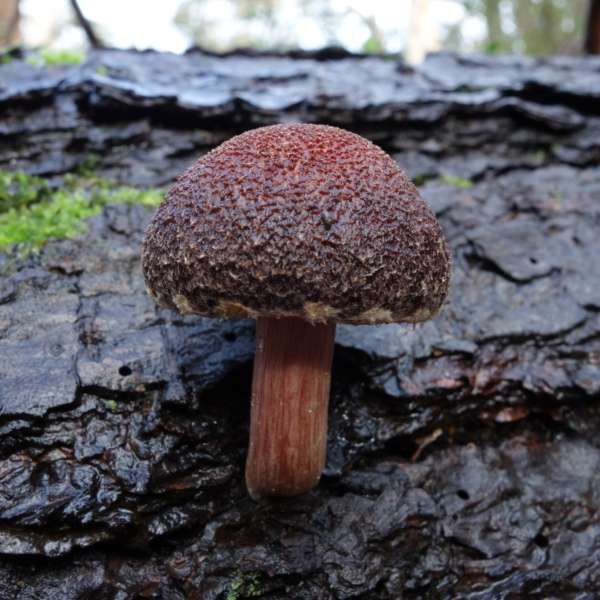 © ericos bob
Gymnopilus purpureosquamulosus
© name
Panaeolus are poisonous, saprotrophic fungi related to Bolbitiaceae. The body of the fruit is usually brown, the cap is conical, flared to hemispherical in shape, and sometimes also spreads when fully developed. The stem sits in the center of the hat and, with the exception of Panaeolus semiovatus, has no ring.
The word Panaeolus is Greek and means "all colorful" and refers to the stained gills of the mushrooms produced. The spores are smooth or rough, with a germinal pore, and all species, except Panaeolus foenisecii, have a deep black spore print.
Panaeolus always occur in grasslands with manure deposits. Due to these location requirements, fertilizers are widespread in rangelands in all areas where livestock are raised. Almost all fungi in the Panaeolus genus contain serotonin, urea, and tryptophan. Some species also contain the psychoactive indole alkaloids psilocybin and psilocin.
These fungi are primarily dung and grassland species, some of which are widespread in Europe and North America.
Members of Panaeolus can also be confused with Psathyrella, however the latter genus generally grows on wooden or lignin-enriched soils and has brittle stems.
Natural habitat:
Spring to fall, abundantly after rain
-common, widely spread
-grows lonely to gregarious, also chubby
-on compost heaps, well-fertilized lawns & gardens
-also directly on horse manure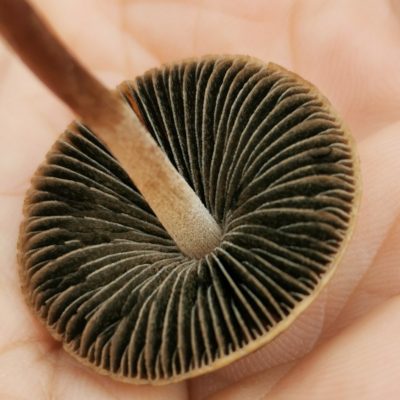 © Juan Carlos Pérez Magaña, Rocky Houghtby
Natural habitat:
During/after cold rain
-found growing solitary to scattered
-in soil or dung
-fertilized lawns and other grassy places
-Saprotroph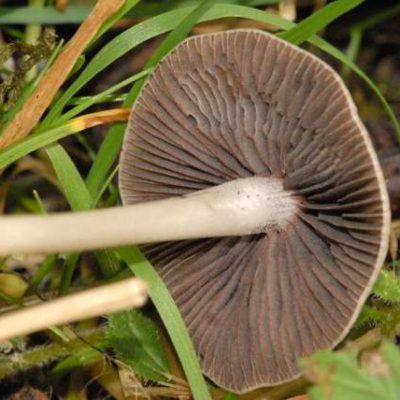 Natural habitat:
late summer through december
-scattered to gregariously
-in rich grassy area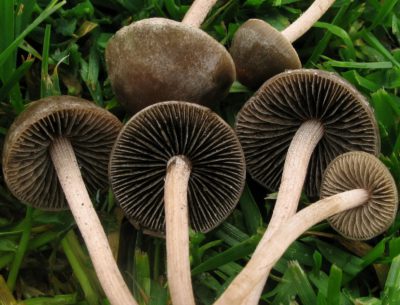 © Byrain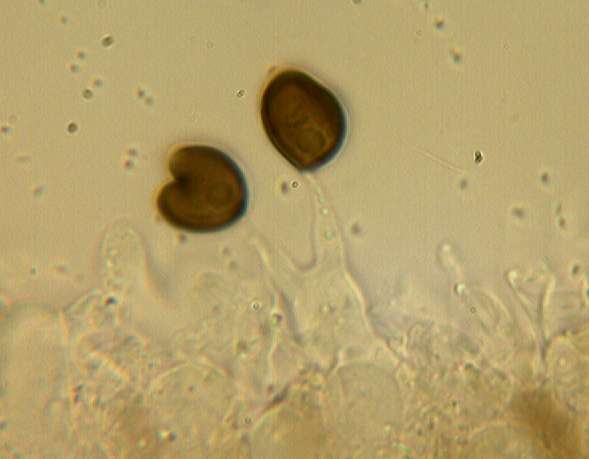 © Alan Rockefeller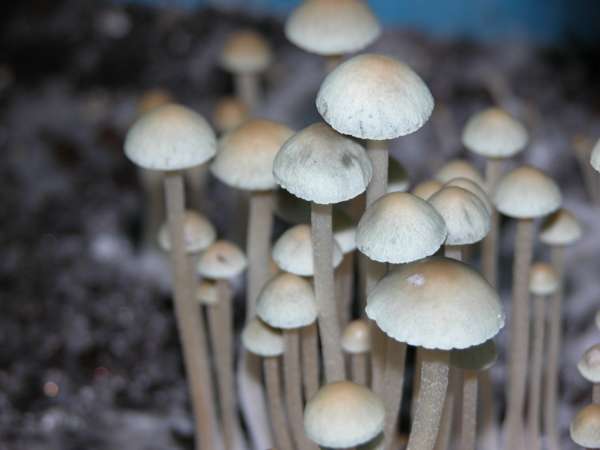 Natural habitat:
summer to late autumn
-grows on dung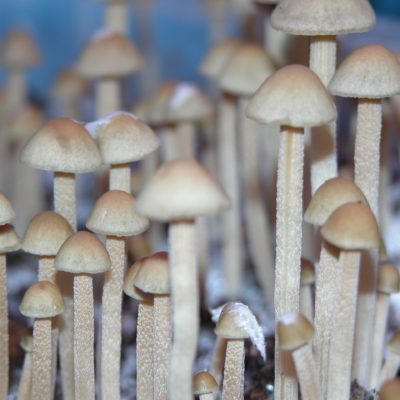 © Alan Rockefeller
Pluteus is a large genus of fungi with more than 300 species.
The hat is always flat-convex, but never deepens or funnel-shaped. The stem is in the middle of the hat and can be easily separated from it. At the base it is plump to bulbous, but never bulbous with an edge. The spore powder is deep pink in color and soon gives the initially pale gills a pinkish tinge. The gills are free from the stem. There is neither veil nor ring.
Pluteus glaucotinctus sensu lato
-if you have infos, please tell me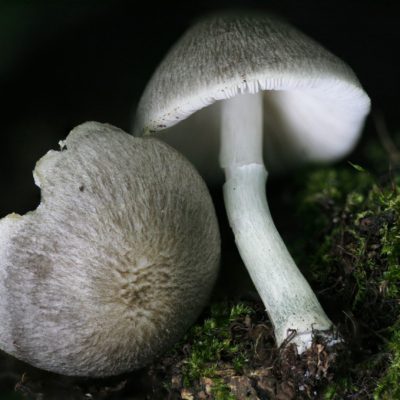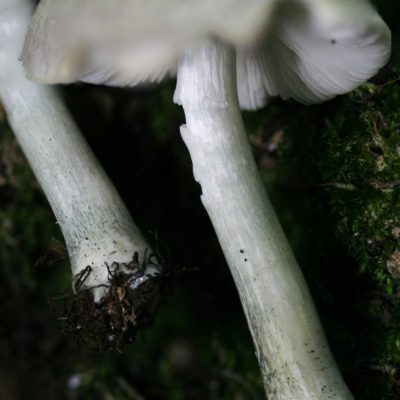 Psilocybe forms small to medium-sized, yellowish-brown to brown fruiting bodies divided into a cap and stem with a pointed bell-shaped or hemispherical cap, often characteristic. The hats are mostly brown with sometimes blue tints; they are mostly hygrophanous. They are thin and generally sticky to greasy. The name bald head is derived from the smooth surface of the hat. It is rarely also faintly velvety.
The beige lamellae have initially grown widely on the handle, sticking or running down the handle with a tooth. They are usually wide and distant or narrow. They later turn red to dull brown or quickly black. Sometimes they also have purple hues. The cylindrical style is slim and central. The handle, sometimes also the hat, turns black, bluish-black, blue or greenish in color when dried. Sometimes there is a veil. It is found on the hat and stem, sometimes lining the brim of the hat or forming a ring zone on the stem.
The smell is insignificant or farinaceous, sweetish in some species. The taste is also negligible to that of flour, but it is rarely bitter as well. The color of the spores varies from purple-brown to dark purple-brown and rust-colored.
Ecologically, all psilocybe species are saprotrophs that grow in soil, straw, wood chips, peat, and debris. Species that parasitize moss are rare.
Natural habitat:
Late summer to late autumn
-Deciduous forest, alluvial forest on dead wood & humus
-Lime rich soil & gardens
-strong
–consequent decomposer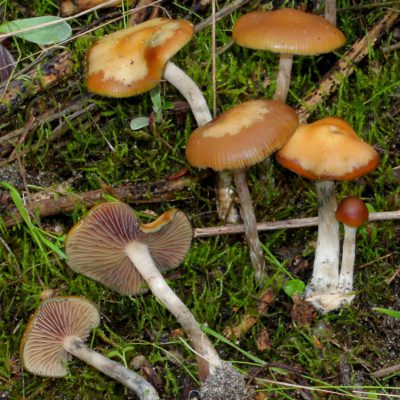 © Alan Rockefeller, Lukas
Natural habitat:
Summer to late autumn
-Animal droppings, in nutrient-rich places
-on naturally fertilized meadows
-consequent decomposer
© Zergboy, Alan Rockefeller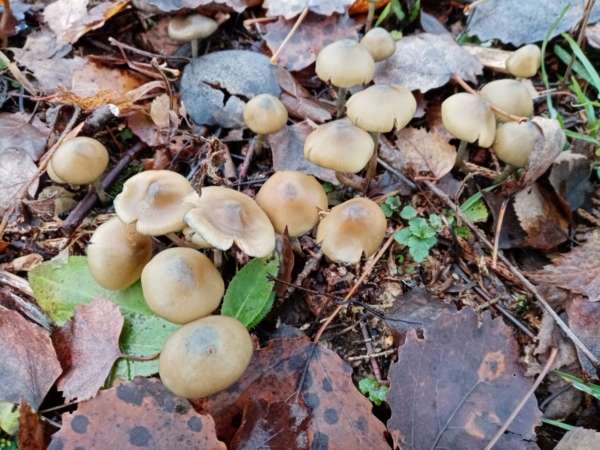 Psilocybe subaeruginascens
Natural habitat:
February and March / April to July
-Wood shavings, piles of leaves & woody debris
-urban areas, gardens
-along paths and roads in deciduous forests
-consequent decomposer
Natural habitat:
Summer to late autumn
-Cow / sheep pastures, in grassy and nutrient-rich places
-on naturally fertilized meadows
-never straight from animal dung
-consequent decomposer